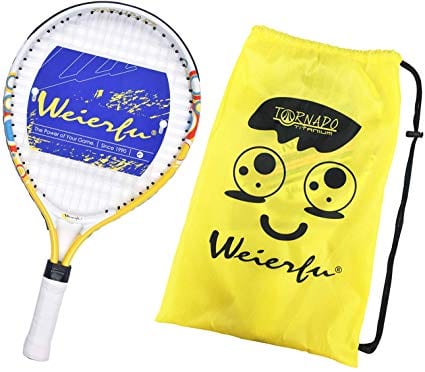 Weierfu Junior Tennis Racket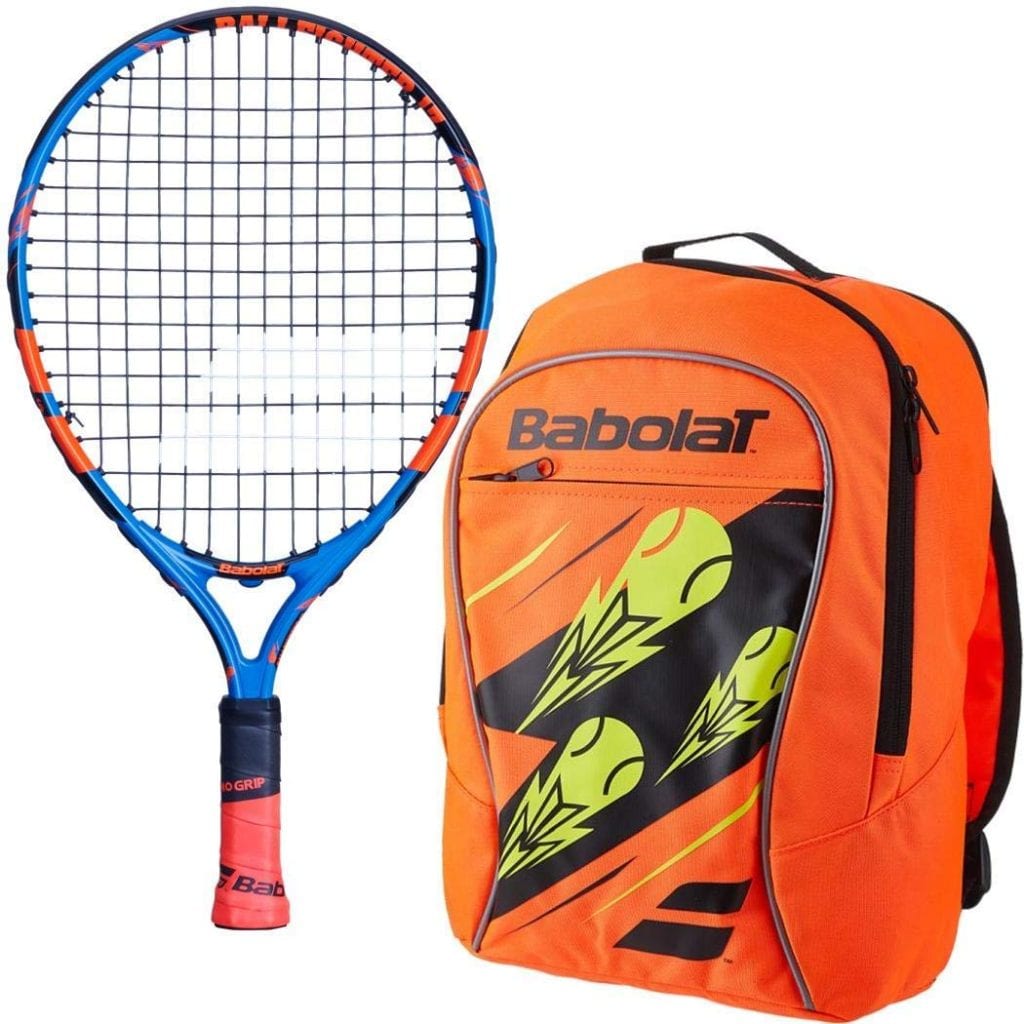 Babolat Ball fighter racket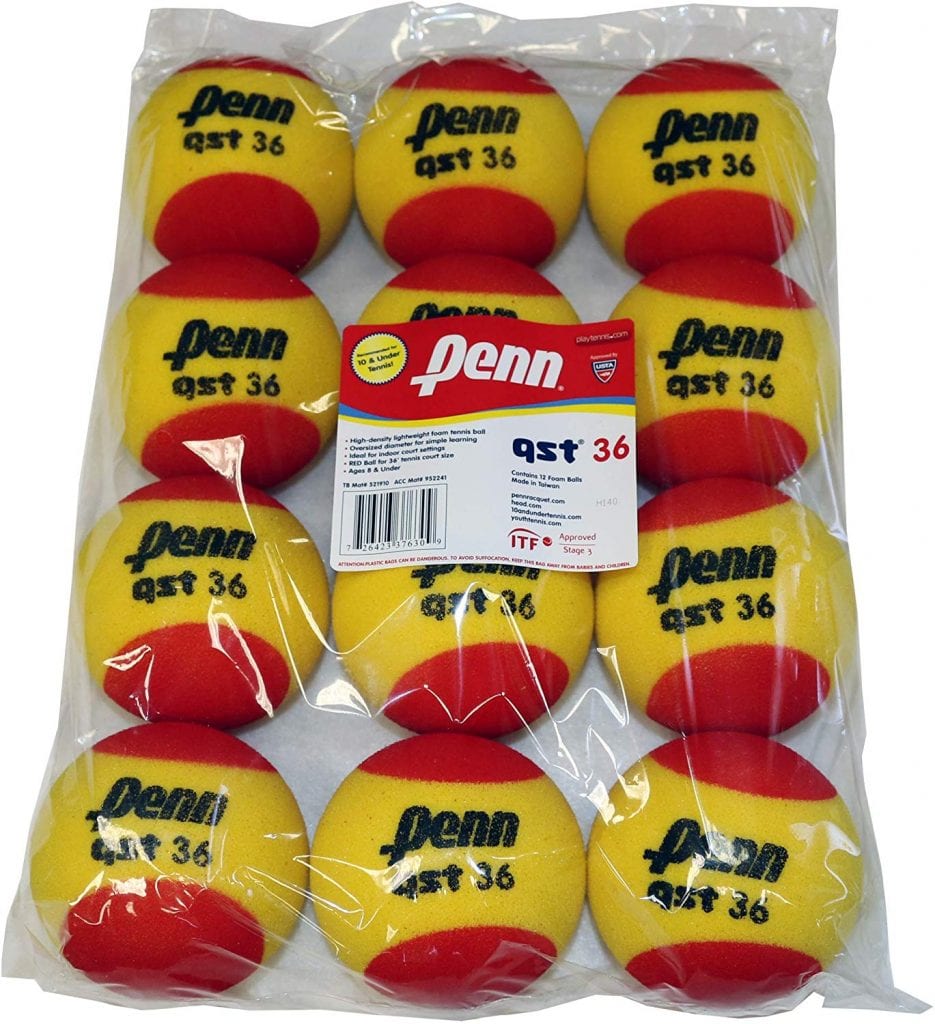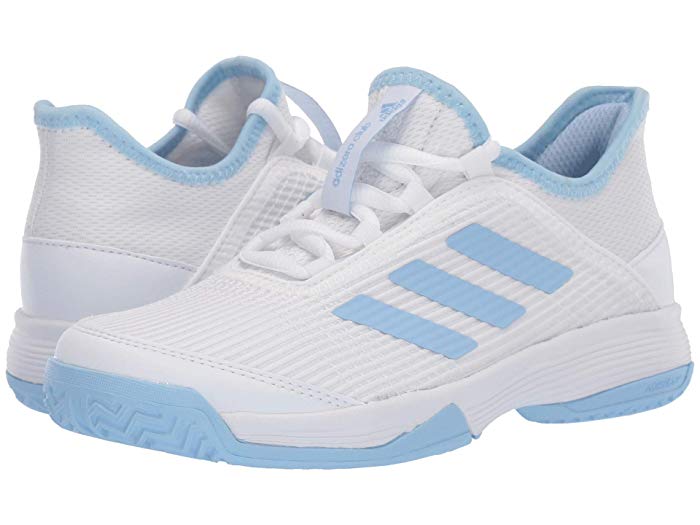 adidas Adizero kids tennis shoe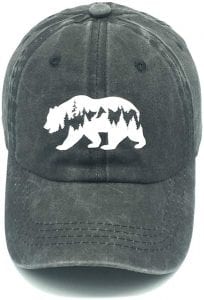 Tennis Hat: Waldeal bear Mtn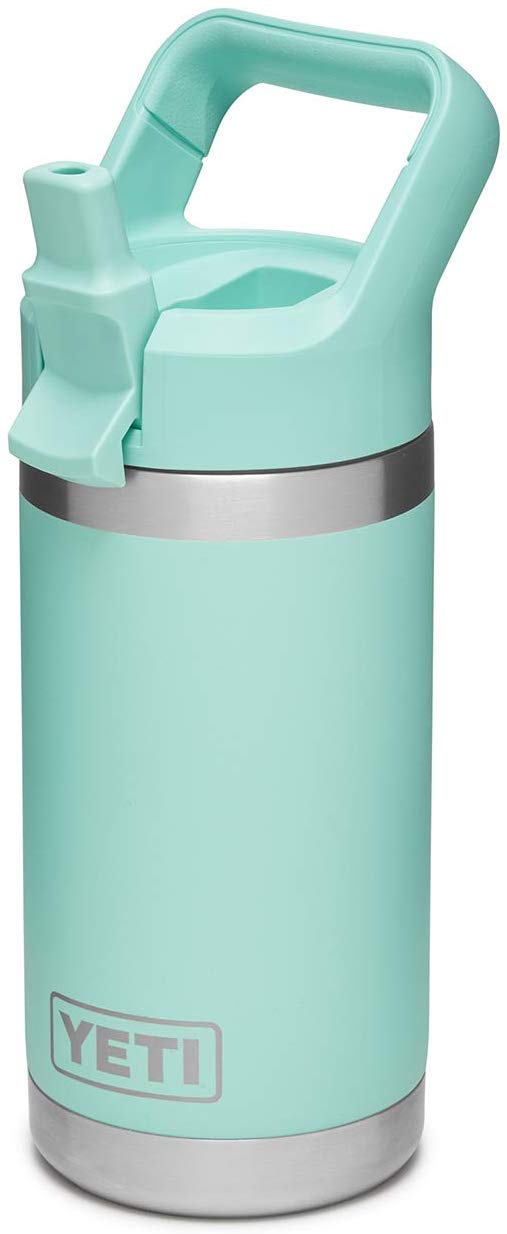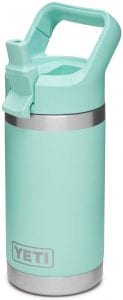 Yeti Rambler Junior  Water Bottle
Add a header to begin generating the table of contents
Tennis is a great game for young children and will provide a lot of fun for kids and their parents. See our article What is the Ideal Age for Children to Begin Playing Tennis for advice on getting toddlers involved in this sport that truly is a sport you can play for life. It is a great game to develop co-ordination and is a great game for energy burning and the more cerebral children out there as it definitely is a game of strategy as you advance and get more into it. Here we look at the best toddler questions as well as answer some of your burning questions
Our Reviews Of The Best Toddler Tennis Gear 
Weierfu Starter Tennis Racket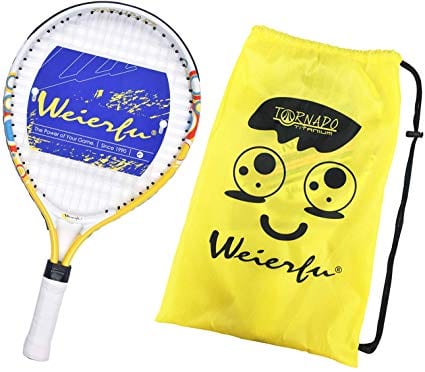 The Weierfu Starter Tennis Racket is an ideal, inexpensive, racket for toddlers as it is lightweight and easy for little hands to hold and little arms to swing with ease. The large 65 square inch face provides for a better chance of making contact with the ball promoting enjoyment and quick development.
The racket weighs 150 grams and is made of light weight aluminum. This aids and easy swing and is super durable which is necessary as very young kids can be unduly hard on equipment. 
The racket makes use of Rectangular Sectional technology which aids the rigidity and stability of the racket. It comes with a bright cover bag for protection and easy carrying.
According to the overwhelmingly positive reviews, this is a great, high-quality starter racket for toddlers to start getting used to the swing motion and can be used even past the toddler years. 
The racket comes with a 90 day money back guarantee.
Babolat Ballfighter Junior Racket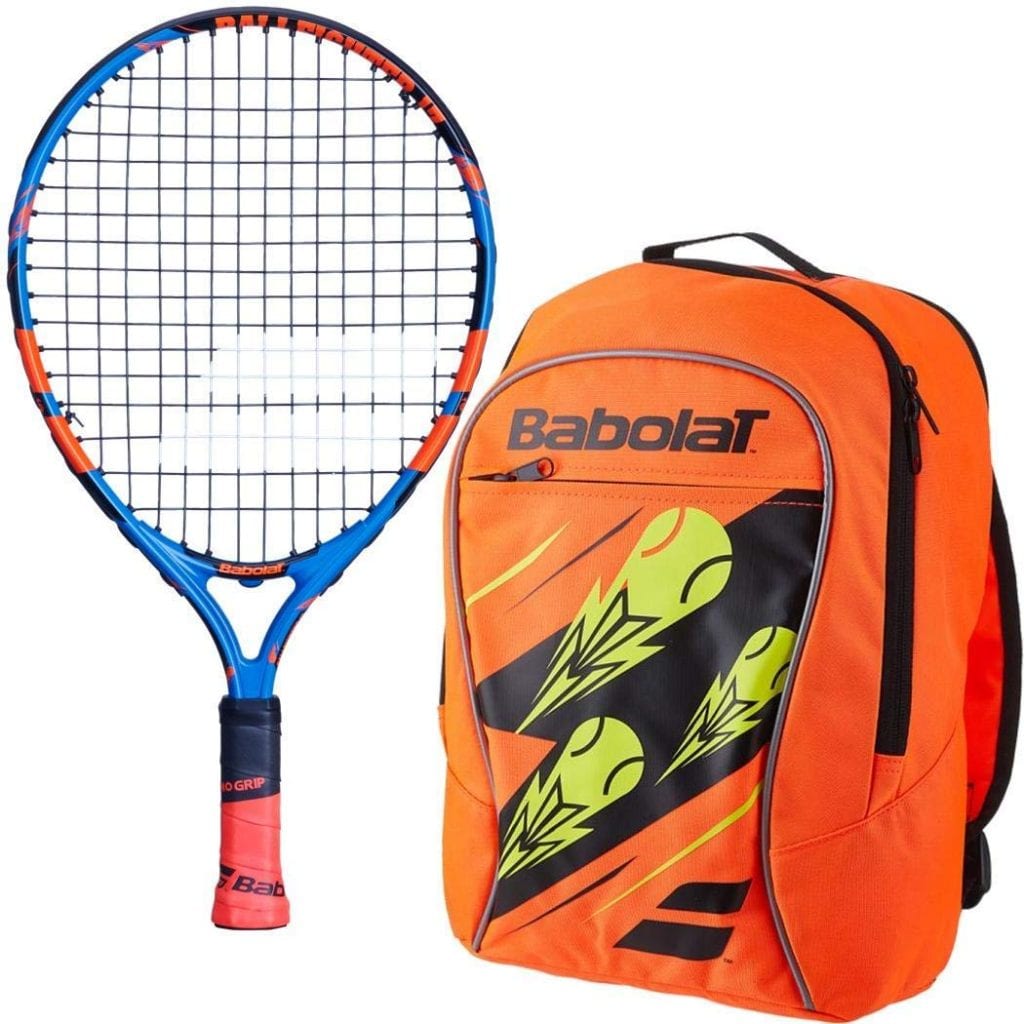 The Babolat Ballfighter Junior Racket is designed exclusively for children ages 5 and under. It is 17 inches long which is perfect for young children to develop their tennis swings. The racket also comes with a matching racket backpack with accessory compartment and popular color combinations of orange/black, pink/purple and purple/white. This in itself is likely to be extremely appealing to young children and may well be the spark needed to get them out on the courts looking very professional and independent! 
At 5.2 oz the racket is light and easy to swing. The racket also comes with Babolat's Memogrip system which helps kids remember where to put their hands for forehand and backhand shots. Babolat is a top name in tennis racket manufacturing and their tennis products are ITF (International Tennis Federation) approved for Tennis10s which is the ITF official program for introducing tennis to younger players. 
The racket is made from an aluminum composite which makes it light weight – very necessary for the youngest players, but still hardy and able to withstand some wear and tear. 
Given that this racket is on the more expensive side we recommend it be given to a toddler who has expressed an interest in tennis.
Penn QST Youth Red Tennis Balls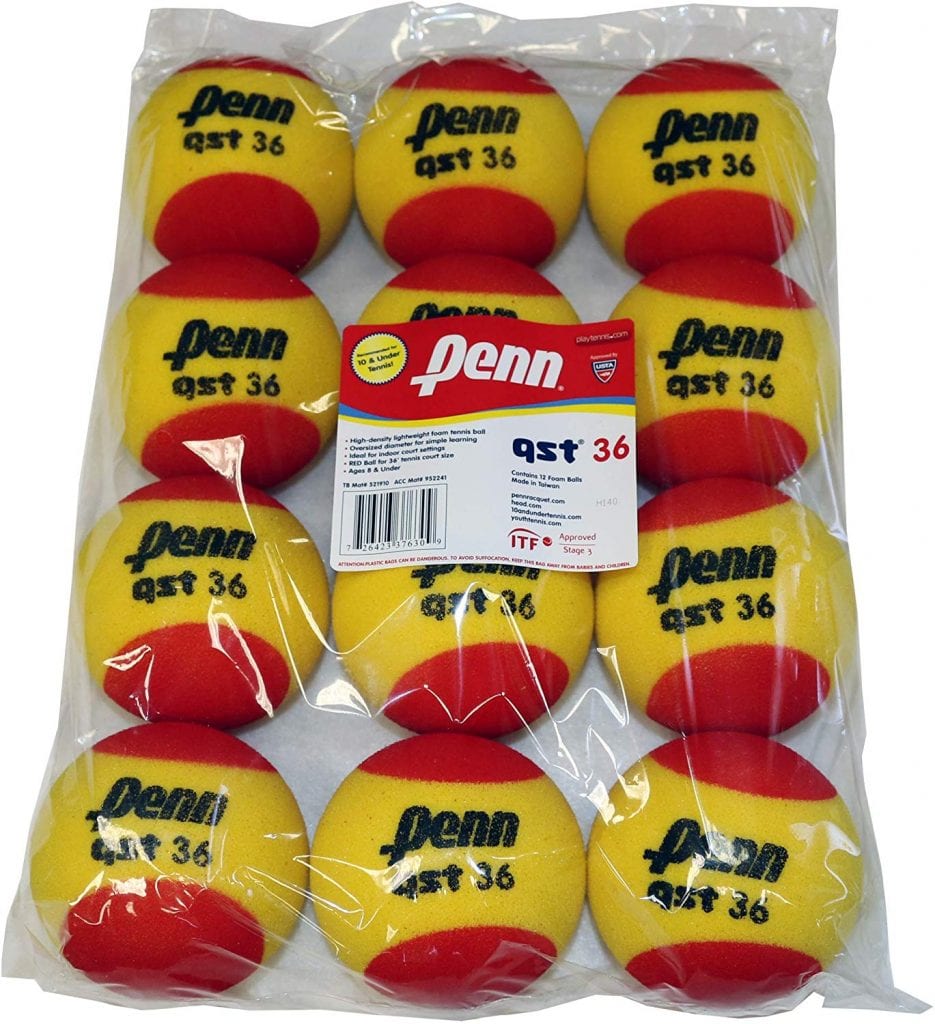 Penn has been making tennis balls since 1910 and the same technology and expertise that goes into their adult tennis balls is found in their junior tennis balls. Penn's QST 36 balls are great for young players just starting the game as they are made with foam and feature a higher density for controlled bounce and reduced speed. They are about 25% larger than regular balls and about the same weight. This is a great help for young players new to the game and still developing hand-eye co-ordination. 
The "36" refers to the size of beginner court that this ball is ideal for, ie. a 36 foot court. The red and yellow 2-tone design helps players from a very early age track spin. These balls are ITF and USTA (United States Tennis Association) approved for 10 and under tennis. 
Being lightweight they can be played with indoors without worrying about them bouncing all over the place and causing damage. It must be noted, however, that the family dog might prefer them to their own toys – so pick them up when you are finished playing with them!
Reviewers are overwhelmingly positive about these balls and love how they bounce well and fly true.
adidas Kids Adizero Club Tennis Shoes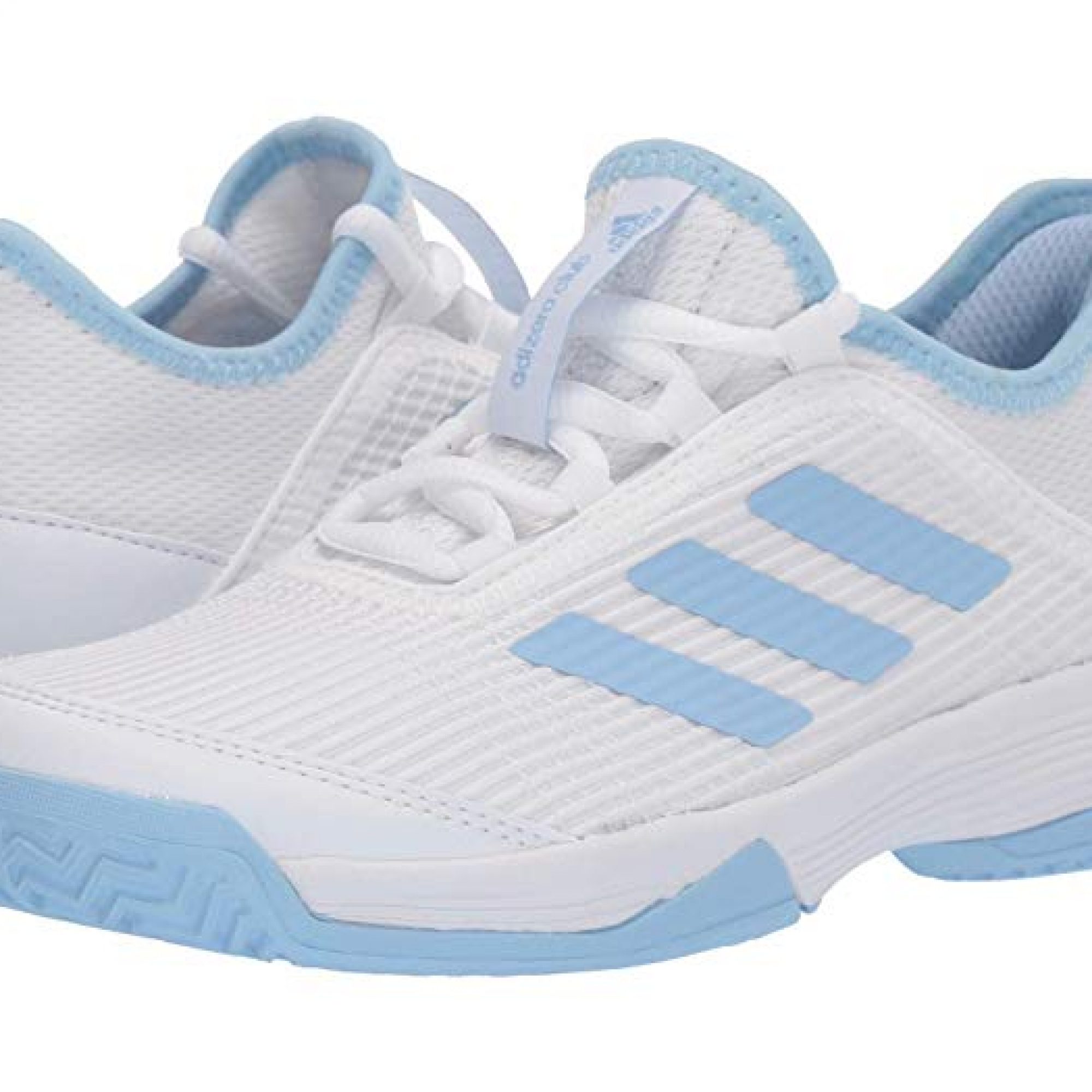 Tennis shoes are generally designed to be more sturdy than regular running shoes as the body's motion on the tennis court is more "stop-start" and side to side in addition to back and forward movement. Stops and starts requires more support around the ankle and more traction on the sole. A toddler starting out in tennis will need some extra support around the ankle as the side to side movement inherent in tennis will not be something their young ankles may necessarily be used to.
adidas Adizero Kids Club tennis shoes check all the boxes for a good tennis shoe. It is lightweight and breathable with a "sock-like" construction which is designed to hug the foot and provide support. The EVA midsole cushions the foot, helpful on a hard concrete tennis court, and the outsole is designed for durability and slip resistance. 
Reviewers love how durable these shoes are. They also come in black/white/grey or white/glow blue/white. The one potential drawback of these shoes is that they are lace closures which very young children will not have mastered yet, however, for tennis a lace enclosure is preferable as it can be tied tighter for additional support. From a price point of view these are mid-range but adidas has a proven track record in athletic shoes and I would be prepared to pay a little extra for their reputation. 
Waldeal Unisex Bear Moutain Tennis Hat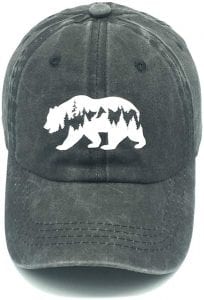 It is important for your young child to wear a hat when playing tennis. Not only does it protect from the sun but it also keeps sun out of the little player's eyes as tennis is a sport that you are often looking up and will often be facing the sun. There are a great many hats your child can play with but at this age it is important that they like what they wear to tennis. These Waldeal Unisex distressed hats are super cute and come in either black or pink. 
These are 100% cotton hats which are durable, lightweight and comfortable. A metal buckle closure allows for easy adjustment and these hats will actually fit children from 3 to 12 years old. 
The pre-curved visor is particularly helpful to shield your child's face from the sun.
The Bear design is super cool and inspires your child to stand up confidently and fearlessly like the bear in the wilderness. It is unusual and kids like to have something cute that you don't see everyone else wearing. Waldeal also has other different and trendy designs including sunflowers, dinosaurs, fish flags, boston terriers and happy campers!
This is an inexpensive hat that is guaranteed to draw positive comments!
Yeti Rambler Junior 12oz Water Bottle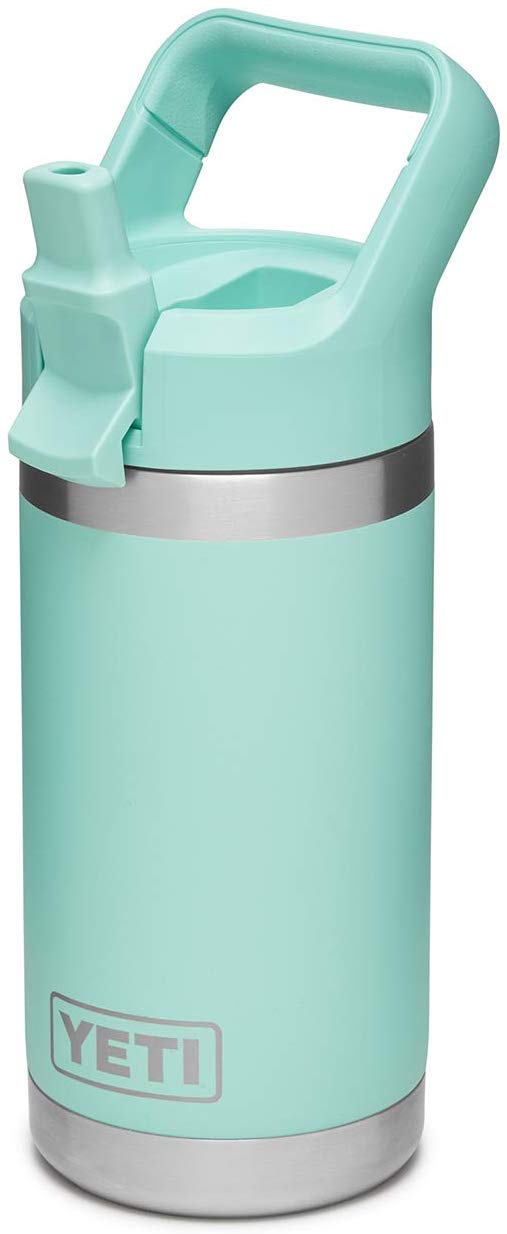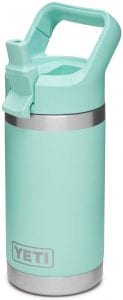 Hydration is very important on the tennis court. It is easy for kids to run around happily swinging their rackets and chasing balls and forget to drink water. Having a high quality, cute water bottle that keeps water extremely cold no matter how long they are outside is a necessity.
Yeti is a high-end water bottle manufacturer and have developed the perfect water bottle for toddlers and young children. The Yeti Rambler is small and mighty, just like your little one! It is made of 18/8 Stainless Steel that will withstand dents, bumps and bruises and is BPA-free. 
It has a no-sweat design which keeps hands dry and thus able to grip the tennis racket after sipping without slipping and a straw cap which is shatter and spill resistant. Double wall vacuum insulation keeps drinks cold (or hot) for a very long time, no matter the outside temperature, and it is dishwasher safe which is a blessing for over worked moms!
These water bottles also come in a series of delightful colors including Canyon Red, Harbor Pink, Navy, Reef Blue and Seafoam. They definitely form an integral part of providing the best toddler tennis gear to your child starting out.
A Parent's Guide to Introducing Tennis to A Toddler or Young Player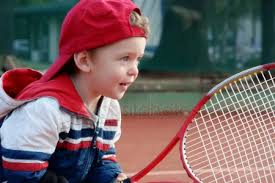 Tennis is a great sport that anyone can play their whole life. Starting tennis as a toddler or young child is very helpful for working on hand-eye-ball co-ordination and overall fitness. It helps set a child up for future participation in other ball sports. There are various places that offer toddler tennis programs which start with the basics of swinging a racket and making connection with a moving ball. Not many toddlers can do this off the bat and as with most things a lot of practice is needed. Bearing this in mind it is vital to keep lessons fun as it is easy for a toddler to be tempted to just give up if it doesn't work out immediately. Making tennis fun with games and small challenges that are relatively easily attainable is a good start to learning this life time sport.
FAQ About Tennis for Toddlers
Especially if you are not a tennis playing parent yourself you may have questions about best toddler tennis gear and how to start approaching tennis for toddlers.
Here are some frequently asked questions that can help you decide whether to introduce your child to tennis. 
Why should my toddler start tennis?
Tennis is an easy way to improve hand-eye co-ordination in toddlers. It helps your toddler develop cardio-vascular stamina and helps them burn energy.
What is the best age to begin tennis?
Around age 5 is a good time to start introducing your child to more formal tennis lessons but there are many toddler tennis opportunities that allow toddlers to start developing an eye for the ball and the swing movement. As soon as a toddler starts walking there is no reason why they should not be given a small and light racket that they can walk around swinging and whacking at soft balls on the floor.
Apart from the physical benefits, what other benefits do kids have from playing tennis?
Tennis is a social sport and a great opportunity to meet new friends in a fun setting. Kids learn sportsmanship, teamwork and social skills playing tennis. Tennis also helps with a child's mental development and encourages strategic decision making and problem solving.
A Fun Way To Enjoy Tennis in the Toddler Years
We should not be trying to create prodigies out of our toddlers. That is not the reason we start our very young children out in sports. If they show tremendous aptitude that is a different story, but for the most part most toddlers and young children will either take to a sport or not but will have more chance of sticking with it if it is made fun with absolutely no parental pressure on them. 
There are many opportunities to join toddler tennis programs but introducing them to tennis does not require a formal setting. Your child and probably you as well will have a lot of fun and a great bonding experience if you go outside with them and let them swing a lightweight racket around at stationery soft tennis balls. A moving ball can be introduced later.
As with all outdoor activity make sure your child is hydrated and protected from the sun. Tennis is a great sport for toddlers and an early start can set your child up for a life time of enjoyment in the sport and other sports in general too. 
Did you like the article? Please rate it: