Kids benefit significantly from being involved in sporting activities, and this is something that parents all over the world have come to learn.
Gymnastics is one of those sporting activities that allow children to explore their physical strengths and weaknesses.
Best Overall
Best Balance Beam
Size
4 ft long with 4 inch top
Material
Metal, synthetic suede and wood trims
Best For
Ideal for different types of gymnast moves
Toddlers and preschoolers
Parents, therefore, should allow their children to participate because it does offer numerous benefits as well. By investing in the best gymnastic equipment for your children, you'll be giving them an advantage and an opportunity to explore their skills when it comes to sporting activities.
There are quite a few reasons why you should encourage your children to take part in gymnastics. However, aside from the various benefits that it has, it's also quite fun and engaging and will increase your children's flexibility, development, strength as well as cognitive skills development and may even help to prevent various diseases in the future.
In the following guide, we'll take a look at some of the best gymnastics equipment for home use and why you should be investing in them.
Best Gymnastics Equipment For Home Reviews & Recommendations 2020
Best Overall – Tumbl Trak Junior PRO Gymnastics Bar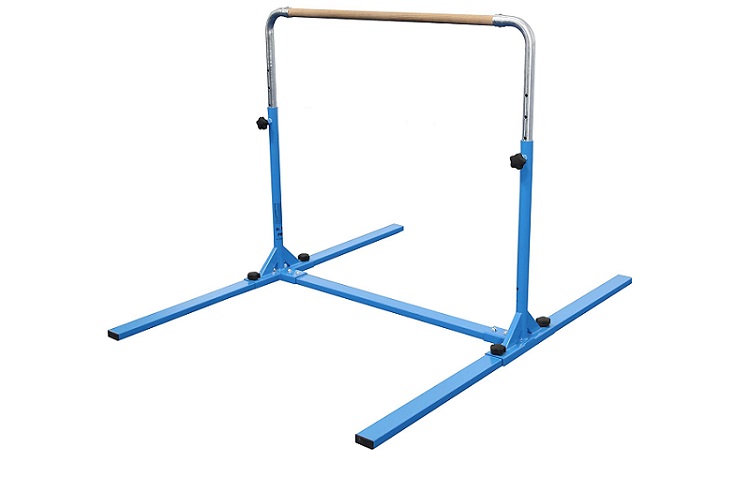 The Tumbl Trak Junior PRO Gymnastics Bar is the ideal training bar for young gymnasts who want to start practicing at home. The Jr Bar Pro is made from robust tube steel and has an easy to assemble design.
However, the design is also quite stable and gives your little one confidence while training and will last your children for years to come. This piece of equipment is very versatile and ideal for all skill levels and ages.
Thanks to the specially designed D2 knob, practically anyone can adjust the height of this Jr Pro. You can easily pull out the spring-loaded knob by raising or lowering the bar and then release it to make it snap into place to create a secure hold.
Tumbl Trak Junior Bar PRO is the only gymnastics training bar that has rounded corners. It keeps the athletes safe while training, allowing them more confidence to proceed.
If it's a compact design that you are after, then this Tumbl Trak Junior Bar PRO is probably one of the safest on the market. The floor stamp allows for the Junior Bar Pro to be set up in practically any room without having to create additional space.
Each Bar Pro has the floor pads at both ends of the support legs. The bars are kept securely in place thanks to these pads when your young gymnast is training. No installation is required, and these pads are already installed directly out of the box.
Pros:
Rubber floor pads
Compact design
Rounded corners
Cons:
Runner Up – Norbert's Athletic Products Gymnastics Mini Bar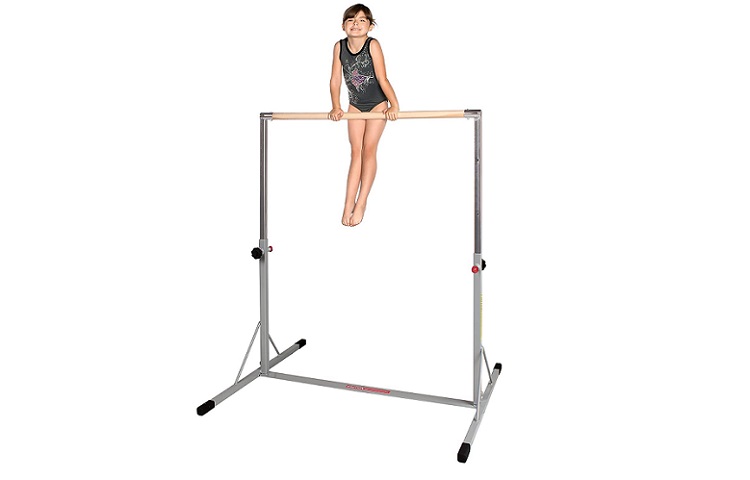 The Norbert's Athletic Products Gymnastics Mini Bar is suitable for children of various ages. Compared to others on the market, it is preferred by gymnasts and coaches nationwide.
The bar is made from a solid 1.5-inch diameter Maplewood to rail and ideal for smaller hands. The base frame, however, is made from strong steel tubing to make it more stable and all joints are welded properly. The steel base is also powder-coated, and the base frame is fitted with non-marring rubber boots.
This bar accommodates up to a 48-inch wide mat. You can use any standard size mats under the base frame so no need to invest in a new one if you already have an existing mat.
There are also three height adjustments, and the bar can be adjusted from 38 inches to 58 inches and easily secured by using the clamping pull pin system. The weight limit is 100 pounds and is good for gymnasts training through level 3.
When it comes to installation assembly is quick and easy. Mobile gym operators and coaches will love the fact that it is so simple to put together and also just as simple to put away.
Pros:
Adjustable height
Quick assembly
Rubber boots for added stability
Cons:
Not suitable for all moves
Alternative – Foam Gym Cheese Wedge Mat Incline for Tumbling and Gymnastics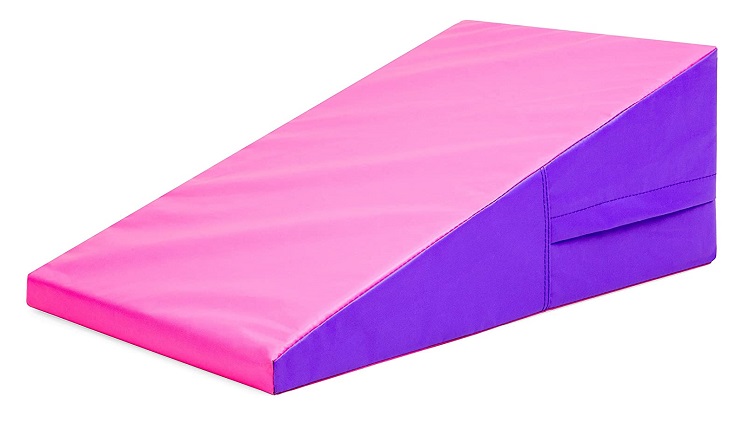 The Foam Gym Cheese Wedge Mat Incline for Tumbling, and Gymnastics is the perfect addition to playrooms, daycares and preschools as well.
It's made from fun colors, and the dense polyurethane foam provides comfort as well as safety as your little one can practice their moves with peace of mind. It can combine easily without other skill shapes to create a range of setups and help develop hand and eye coordination as well as motor skills.
This cheese mat wedge shape is perfect for little ones learning how to tumble, and practice other beginner gymnastics routines.
Pros:
Polyurethane foam is safe and comfortable
Wedge shape makes it easy to place with other shapes and create setups
Fun colors
Cons:
Small size so only suitable for kids up to age six
Best balance beam – The Beam Store 8′ Suede Balance Beam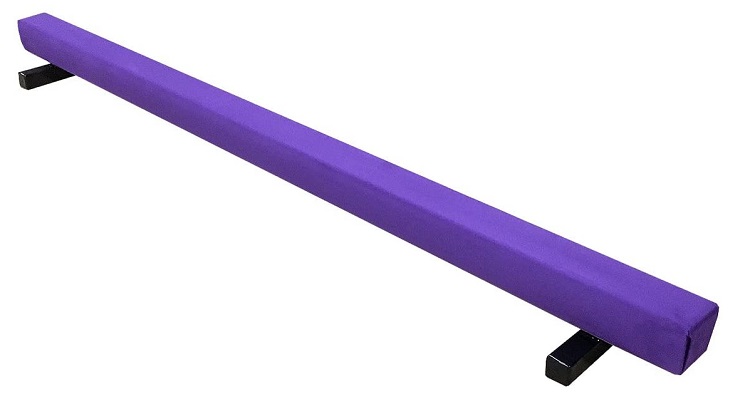 This 8ft tan suede balance beam is one of the best in the world. It is extremely robust and durable thanks to the wood core with a weight capacity of 250 pounds.
You do not require any center support, and this allows the mat to just glide underneath the beam. Almost twice as much wood is used in these beams as any other brand. Therefore it will not flex or bend when doing leaps or jumps.
The same padding is used as that used to manufacture the competition beams. This gives a realistic feeling on the feet and makes it easy to transform from a training beam into a competition beam. The cover is made from heavy-grade suede which provides an incredible yet durable and great non-slip traction.
The beams have curved sides just like competition beams, and they affect the handgrip and provide a more realistic training experience. Thanks to the enforced ends, the life of your beam will be extended as this is where most of the wear occurs
All beams have been tested to meet safety standards and contain support braces that are made of steel with rubber pads. These beams are made using cross-grain laminated wood construction which gives the beam it's durability and eliminates warping or twisting.
Therefore no center support is required and the core is planned and sanded to the competition oval beam shape. They are as close to competition beams as you can get providing a realistic experience and includes all of the padding, covering and shape of the competition beam. The product also comes with a two-year transferable warranty.
Pros:
Heavy-grade synthetic suede covering
Rubber ends on legs
Padded top
Cons:
Not suitable for heavy kids
Runner Up – Tumbl Trak Sectional Gymnastics Floor Balance Beam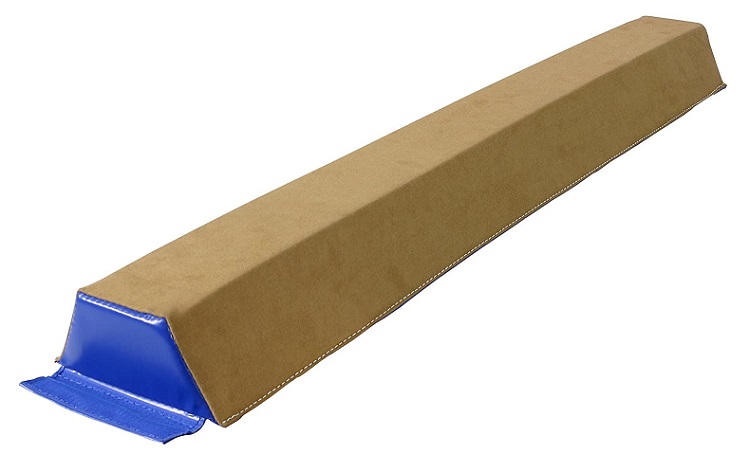 The Tumbl Trak 4ft Sectional Gymnastics Training Floor Balance Beam is great for home use. It is suitable for smaller spaces so your child can practice at home. Each beam has a velcro at each end to attach multiple units together if required.
The sectional beam is the same width as a competition beam and is covered in suede which also gives it a competition feel. The lightweight design makes it easy to move around from one place to the next as well as store away.
They are suitable for practicing skills in women's gymnastics, and they can work for practicing some men's skills as well. You can use them as P-bars as well as guidelines when practicing floor skills such as backhand springs, cartwheels etc.
If you are using it for a child, in order to provide a safe environment, you should use a mat underneath it. You can connect two or more beams together to make your beam 8 foot, 12 foot, 16 foot etc. As mentioned earlier, the fact this beam saves space and is so easy to use makes it ideal for home use.
Pros:
Lightweight and space-saving
Attach to other beams to create any length you need
Can be used by grown men and women as well for guidelines and developing others skills
Cons:
Too small even for kids, you need to purchase two
Home Gymnastics FAQ
How can I practice gymnastics at home?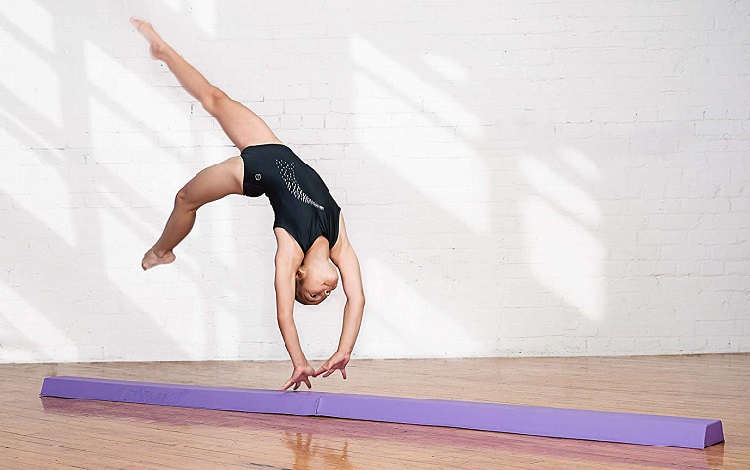 If you're anxious about the cost of gymnastic classes, leaving a hole in your pocket, then you should know that it is possible for your kids to practice gymnastics at home.
Gymnastic classes are not even available in many areas, and if this is the case in your area, there's no need to deprive your kids of the benefits of gymnastics.
Toddlers can learn gymnastics at home quickly and easily. Basically, most of the gymnastic moves for children are typical preschool gymnastics that are taught in most preschool classes and daycares.
Learning how to teach your kids gymnastics at home is definitely achievable, starting with gymnastics activities for toddlers. Investing in kids gymnastic equipment such as mats and balance beams can turn these activities into even more fun.
However, the main point to remember is that you need to learn how to engage your toddler in order for them to be excited and enjoy the gymnastics moves that you are teaching them.
How do kids do gymnastics at home?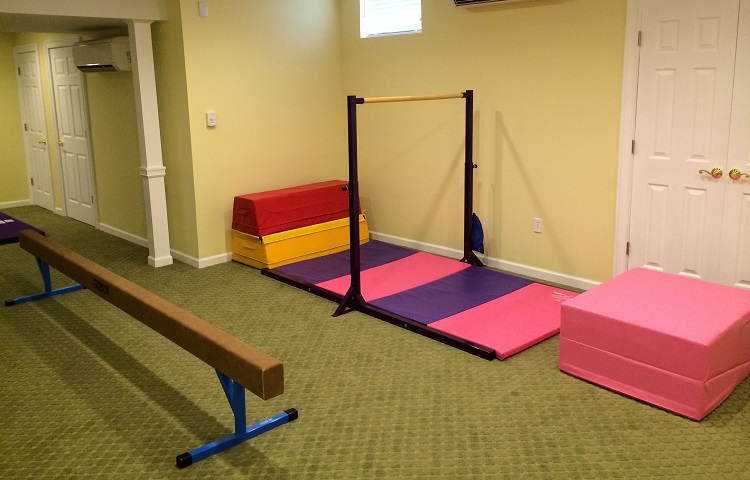 The sport of gymnastics is quite popular, and there are several gyms that exist, however, it's still not accessible for many kids.
While some gyms are extremely expensive, other cheaper programs cannot afford to pay for training from qualified instructors. Many gyms are also well-known for hiring young coaches that have gymnastics experience assuming that they have the knowledge to teach.
This can often result in unsafe teaching since these people do not have the skills to teach gymnastics. Lots of gyms, on the other hand, tend to teach gymnastics as a sport, and while gymnastics is very competitive and has its place in the sports arena, it definitely does not have one in children's lives.
The good news is that children can learn and practice gymnastics in the comfort of their own home. Irrespective of whether your child is attending a gymnastics class or not, practicing gymnastic moves at home is easily achieved.
Some children lack confidence, and you may confuse this with not liking gymnastics. However, this is not the case; they may simply be intimidated to move their bodies in ways that they not used to moving it.
However, your child's lack of confidence is probably the best reason for you to motivate your child to learn gymnastics at home. They can learn at their own pace and in an environment where they don't have to compare themselves to anyone else.
So some of the best ways to introduce your children to gymnastics is to let them watch gymnastics videos for kids. This ultimately teaches your children that they can learn gymnastics anywhere and the videos give them more ideas on how they can learn in safe ways while practicing gymnastics at home.
Another way to motivate and encourage kids to practice gymnastics is to create an environment that is conducive to this type of learning. Children have an innate desire to move, and all they need is the proper instruction and environment in order for them to learn gymnastics. Kids love being outside as much as possible.
They enjoyed being in big spaces and if you would prefer to teach them gymnastics inside the house, then make sure that you remove couches and chairs and any other furniture and obstacles that could be limiting your child's movement space in that specific room.
If you are privileged enough to have a spare room in your home, then you can consider turning that into a gymnastics room. Not much effort is needed to turn this room into an ideal space since all you really need in a gymnastics room is at least one mat, a gymnastics bar, and lots of space as well for your kids to flex, bend and swing around.
What is considered level 1 gymnastics?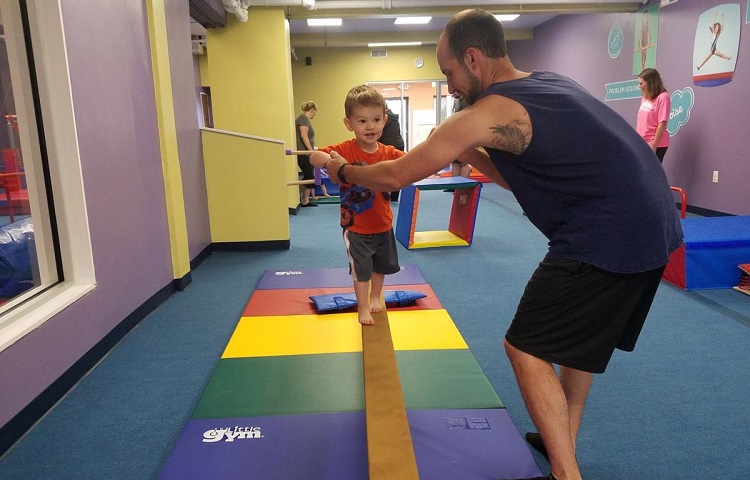 When considering doing gymnastics as a professional sport, you ultimately need to learn how to do certain moves that may sound unreachable at first.
However, everyone needs to start somewhere. Gymnastics is an amazing sport to get children introduced to since they have an unlimited amount of energy, and therefore getting them active and participating in something that stimulates their interest and physical development is beneficial to them.
Level 1 gymnastics is basically those types of moves that you need to learn to do on the floor and are usually the introductory stage or level of the gymnastics sport. Some of the moves that you learn to do are the three-quarter handstand, backward roll, forward roll, cartwheel, bridge, tuck jump as well as the candlestick.
What are the best types of gymnastic equipment for home use?
When introducing your little one to gymnastics, you won't need a long list of gymnastics equipment aside from a balance beam, foam mat, and foam wedge to get them started.
However, as time goes by and your little one gets older and becomes more well-versed with gymnastics, you may want to consider investing in some additional gymnastics equipment such as:
Different types of beams
Mats
Bars
Gymnastics accessories
Conclusion
Teaching your child gymnastics at home is probably one of the best ways to boost their confidence and get them to use up the energy that they always seem to have.
While you may not know anything about gymnastic moves, there are lots of videos available online that can help you to teach your toddler basic gymnastic moves.
There is also an arsenal of gymnastic equipment that will assist you in developing their motor skills and overall physical development.
---