Bumps and bruises happen. They're a part of your toddler's life and how they explore the world around them.
However, we all want them to be a bit safer while still giving them the room that they need to grow.
That's where play mats come into play.
These can be used for at-home gymnastics, to pad a playroom, to simply to give your toddler a spot to play with their toy trucks without kneeling on the hardwood floors.
Our Reviews Best Kids Play Mat
BalanceFrom Kid's Puzzle Exercise Play Mat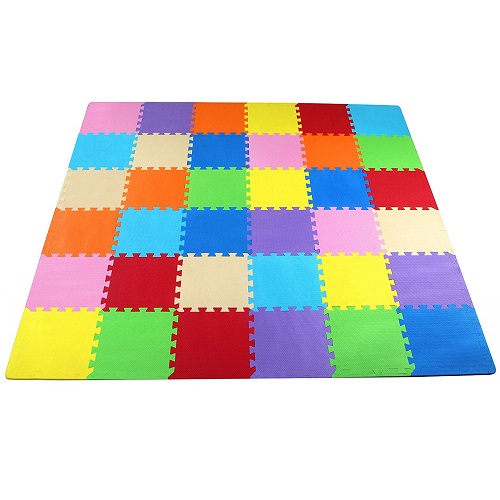 Even just looking at it, can't you think of a few things you'd want to build.
This is the most versatile, overall best baby play mat that you can get.
With 36 individual pieces, you're about to use each individual puzzle piece to build bridges, bozes and skyscrapers when it's not being used as a mat (great for toddlers as they outgrow playmats).
Each tile is made out of a high density foam, which means that it absorbs shocks and falls.
If your little one comes tumbling down, they're not falling into a plush pillow, but they won't feel the force of hitting the hard flooring.
The great thing about BalanceFrom's kit is that you get 16 square feet in total for a reasonable price, in nine different colors.
If the price is a bit out-of-budget for you, there's a 16 tile package with four colors for cheaper.
Choose from different shapes and even include alphabet letters if you'd like: there's a lot to choose from.
Everything you see has been covered by US regulations on toy safety standards, ensuring the slip resistance is up to snuff, as well as the general build of each tile.
BalanceFrom even includes a two-year warranty on foam toys, and if that isn't mind-boggling to you, I don't know what will be.
Non-BPA and non-phthalate construction, non-toxic, and built out of high density EVA foam—it's just itching to be tested by the rough-and-tough tumbling ways of your little wanderer.
They're going to test the world, and BalanceFrom will be sure that they have a soft place to land after everything they attempt.
Baby Foam Playmat, by Twinkle Clover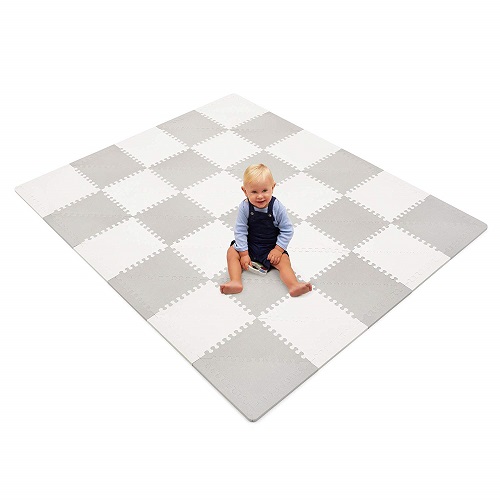 36 different tiles cover tons of space in your home.
This foam baby mat comes with a high density foam that's perfect to handle life's little inconveniences, tumbles, and spills.
Built with designer looks in mind, you can choose from different looks with clean white and beige colorations to compliment any space.
Use geometric lines to compliment your space and make this feel like it fits, not like it stands out.
There's a completely spill resistant design here that you can't get through.
Even if the liquid does spill through the cracks, it doesn't penetrate the harsh exterior of the foam. Durable as can be, and designed to last.
You even get a bunch of plugs (about 20 on average) to plug up your sockets with and baby-proof your home as an added bonus.
They give you that bonus because the tiles here are expensive.
They span a good amount of space, but even so, you're going to pay a lot out of pocket to get these.
If you have very little ones, or you're getting these ahead of time before they're crawling around on them, I would say that you really have to consider the cost and total lifetime use you expect to get out of this.
It's a hefty sum right up front, so if you're going to invest in these (if you're having multiple children or you want to open a home children's gym or something), then it could be worth it.
The durability alone is going to be enough to justify the purchase price. There's just a lot to consider.
Tadpoles Soft EVA Foam ABC Playmat
Tadpoles make this look like a play mat rug with the way that it's set up, stretching from one rounded, finished edge to another.
You have a color scheme that creates a solid border and makes everything flow together nicely, and the thing is, you don't just have to stick to the pink and purple design that Tadpoles is pushing.
There are six different styles to choose from for traditional-style boy and girl mats.
Each set contains 36 foam tiles, which together can cover 36 square feet when you push everything close.
You get the full alphabet, as well as numbers 0 – 9, giving you multiple activities that you can do with this mat.
The good thing is there are multiple price changes here that happen on a constant basis, as Tadpoles constantly switches to give you the best deal imaginable.
You'll be able to save more and cover more at the same time.
However, there is a catch. You're getting high density EVA foam, but it isn't built to last nearly as long as most EVA foam is.
EVA is a type, not a brand of foam, which a lot of people confuse.
You won't be able to penetrate it too easily, but it's still going to tear easier than it should.
This is all based on the manufacturing methods of Tadpoles, which could be improved upon after closer inspection.
Baby Play Mat, by UANLAUO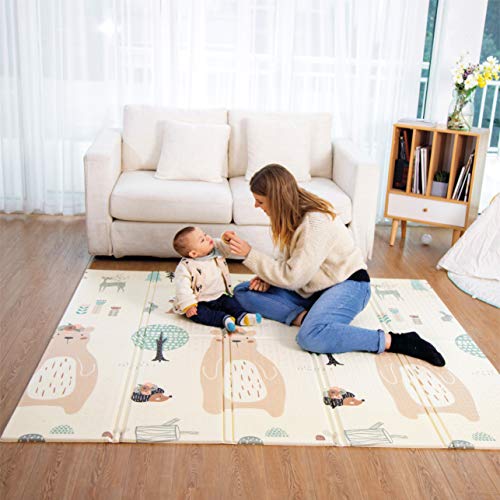 If you're looking for toddlers play mats that aren't piece-by-piece, then UANLAUO has a high-end option for you.
With a decent amount of bounce and cushioning to it, this pad comes out whenever you need it to.
The play area is excellent, giving you and your little one plenty of place to play around.
If you're getting down for playtime (which is excellent for your child's development), you won't have your elbows jutting off the side onto the hard floor. Total coverage.
Now, coverage is good, but it's also not cheap.
This rather pricey playmat is worthwhile and designed to last for ages to come, possibly until your next child and through their toddler.
It's durability is more than worthwhile, as is its versatility by being a fold-up playmat, you just have to keep a budget in mind.
JumpOff Jo Large Waterproof Foam Padded Play Mat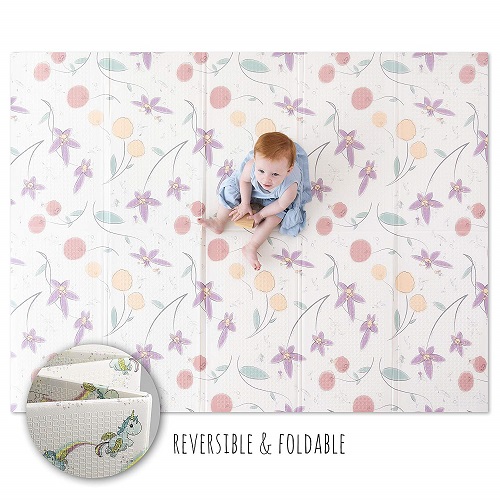 The last baby floor mat on our list comes with a waterproof coating on the entire thing, meaning you don't have to worry about spills.
If the sippy cup lid comes off (because they always find a way to pull that lid off), then you're still good.
Waterproofness isn't the only selling point here: the foam is thick enough to help cushion your little one against tumbles and falls.
Regardless of how hard they go down, it softens the blow, making playtime a little less stressful.
Everything is double-sided, so if you get bored with one design, you can simply flip it to remedy the situation.
No harm, no foul. You're going to run into a little option to switch out for a secondary design, but it's entirely up to you.
Price wise, being a one-piece item, it's worth it.
JumpOff To somehow managed to make the interior rigid, while still ensuring that the cushioning helps your little one from hurting their bottoms when they come tumbling down.
Double-sided and ready for action, this foldable, convenient carry baby play mat can go in the bottom of a Pack and Play, or simply be laid out on the floor when you're at the grandparent's house. Whatever works for you, it's there.
With any hard interior, you do have to be weary of wear and tear and sharp edges poking through the softer material as time goes on.
Just do you best to maintain it and keep it away from sharp furniture, and you should be fine.
Kids Play Mat Buying Guide & FAQ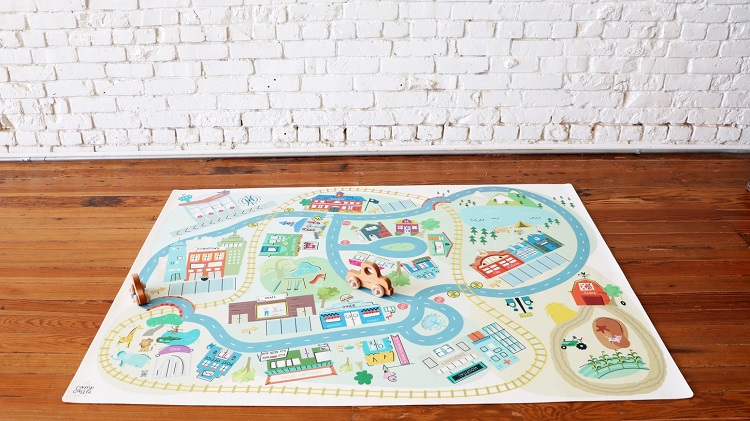 Why Do You Need a Playmat?
Your child needs to be active. We're in a screen-based world where you can spend eight hours binging television in what seems like the blink of an eye.
How many times have you gone to the grocery store to see toddlers, in the bottom of carriages, with a tablet in their lap?
They need more activity right from the start, so when your little one is three to six months old, getting them started on some playing mats for babies is going to be extremely helpful developmentally.
Let's go over the primary benefits of why you absolutely need one for your little wonder.
Cognitive Development
The leaps that a child's brain makes in the first year after being born are absolutely insane, but what you don't use, you lose.
Your child needs something to help challenge them, so when they're on a playmat and they can kick around, explore without consequence, and they have their own space to play with toys, it can aid in cognitive development.
All children should have a designated play area (even if they don't always stick to it, having it is important).
Motor Skills
Picking up a toy, flexing their fingers, bending their knees—these are all motor skills, and if you haven't noticed, your little one kicks and flails a lot because they literally have no control over their own reflexes.
Babies are still developing their motor skills. For toddlers, this gives them a designated space to develop motor skills if you make it a designated play area.
Safety
There's a reason that every manufacturer out there dwells on their foam and padding when discussing the sales points of any baby playmat.
You want your little one to be safe, and if you have tile or hardwood floors, they're anything but. One tumble down could be a concussion.
Playmats give them a soft area to fall down on, and trust me, they're going to fall. It's all part of the learning experience.
A fall doesn't have to hurt them to teach them "Hey, I should try to learn not to fall."
Which Materials Are Best for Toddlers Playmat?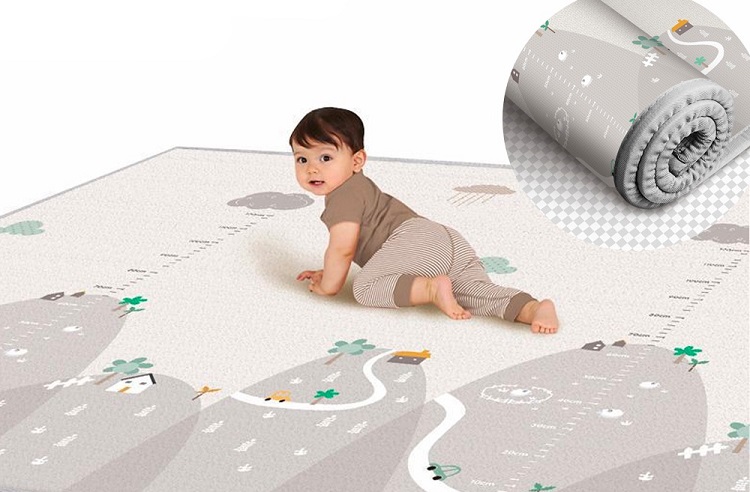 There are a few that come to mind. It's good to know the difference between some of these for toxicity purposes.
I've seen all too many online comments and questions about baby play mats (and other child gear) that come from third-party no-name sellers and there's no way to verify the materials, which is not what you want.
These are what you should look for:
EVA Foam
EVA foam is an extremely durable, and relatively inexpensive foam that has a lot of shock absorption.
If your little one is learning to walk and you need something for them to fall back on, this cushions them from most of the shock, and helps avoid those little fits of crying when they're trying to learn something new.
EVA foam in and of itself is considered toxic if consumed, but if you come into contact with it, you're perfectly okay.
There's going to be a durable lining over the top anyway, so the chances of actually making physical contact with EVA are low in the first place.
PVC
Otherwise known as vinyl, this nontoxic material is best used for playmat surfaces to keep things nice and waterproof.
PVC used to contain BPA and other harsh chemicals, but since it became a well-known negative chemical, manufacturers of baby and toddler items have completely wiped it away from their MSDS.
It's just not something you run into much anymore: nearly all PVC is fully child-safe nowadays, but you may still find some information dated for 6-10 years ago when it was included in baby bottles.
Since your children are not going to be eating off of this or drinking out of a PVC bottle, it's perfectly safe to play on.
Plant-Based Foam
I love this because PVC and EVA foam don't break down the way they're supposed to when introduced to organic bacteria and organisms in nature.
Plant-based foam gives you the ability to feel as guilt-free as possible when discarding an old playmat, especially if it's gotten ratty or just extremely worn down to the point that you can't donate it.
Plant-based foam is safe for children to play on, and it's usually contained in a PVC housing.
Cotton
If you aren't comfortable with PVC and EVA foam, I understand. There's a lot of trepidation here.
Cotton cloth covers can be purchased for playmats, or you can find cotton-topped foam tiles that interlock with one another.
Despite cotton being readily available and inexpensive, these are difficult to manufacture, so you might actually pay more for cotton tiles/playmats.
When Can a Baby Use a Playmat?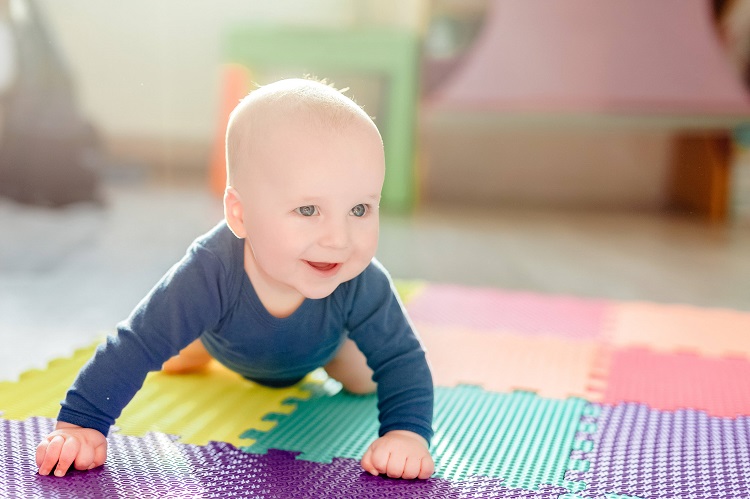 Your little one can use a baby play mat when they're about three months old.
A bit of tummy time on the mat gives them the ability to kick around and go crazy.
If you're not comfortable with your three-month-old being on a playmat (especially if it's your first), you can wait until they're about six months old before you let them on it.
At six months, they're still not going to have the same command over their motor skills that we want, but they can usually roll from one side to the other, and you might even have some early crawlers at this stage.
If you wait for too much time past the six month mark, then you're starting to waste the total lifetime that a baby will get with this playmat.
Can Babies/Toddlers Nap on Playmats?
The ideal place for any infant to sleep is in a secured cot or crib with no blankets, or overly fluffy siding. That includes bumpers.
A padded baby play mat should just be used for playtime for your infants.
While it's not something anyone wants to think about, there is a SIDS risk associated with playmats if you leave your child unattended.
However, if your toddler wants to camp out on the playmat, there's no problem with that whatsoever.
Once your child no longer runs the risk of SIDS, they will roll over if they begin to suffocate or feel constrained on a playmat.
While it's not something that anyone wants to do, you should consider waking up your little one if they fall asleep on the mat, unless you plan to sit by them the entire time and monitor their movements.
Pull out a good book and sit close by to ensure their safety.
Why do Some Playmats Have a Textured Side?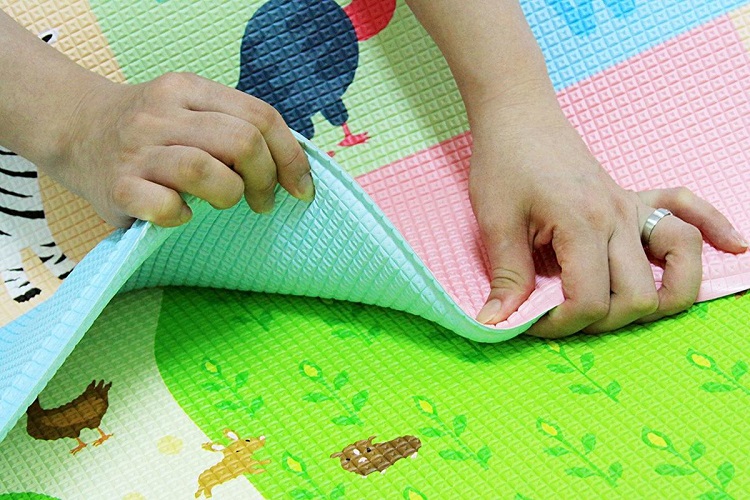 Most playmats are reversible, meaning you can flip them upside-down and they'll work just fine.
If you're using foam tiles, you might notice one side has more texture than the other. Playmats can simply be flipped upside-down.
These are the sides that are supposed to be pressed to the floor.
The texture helps provide traction on hardwood, tile, and carpeting, though the results will vary depending on how many kids are using this playmat, and how old the mat is.
They were down over time from friction and being dragged or moved across the floor.
Play mats give your toddlers the space to play and the safety to give you peace of mind.
They can enjoy their own world, explore it, test it, and you can know that they're not going to endure any harm (although little ones will always surprise us in the ways that they can avoid that).
We do what we can to make the world a safer place while still allowing our little ones to experience it.
Do what you can with safety play mats, and ensure that they've got the room to grow and learn everything that this critical developmental stage in life has to offer.
Did you like the article? Please rate it: