Getting kids into sports is a great way to encourage the lifelong habits that will help them to grow into healthy, fit, well-rounded adults.
When it comes to toddlers, there are now a number of sports toy options out there to introduce very young kids to sports through sports themes toys. In addition, there are also many team sports for kids as young as three. We dive into some of the most appropriate toddler team sports below.
In this article, we'll discover the some of the sports for toddlers, along with some important tips for getting your child into toddler sports.
This list is clearly not all inclusive but these are some great ideas for getting toddlers into sports in a fun and social environment.

7 Best Toddler Sports
The Best Toddlers Sports
Gymnastics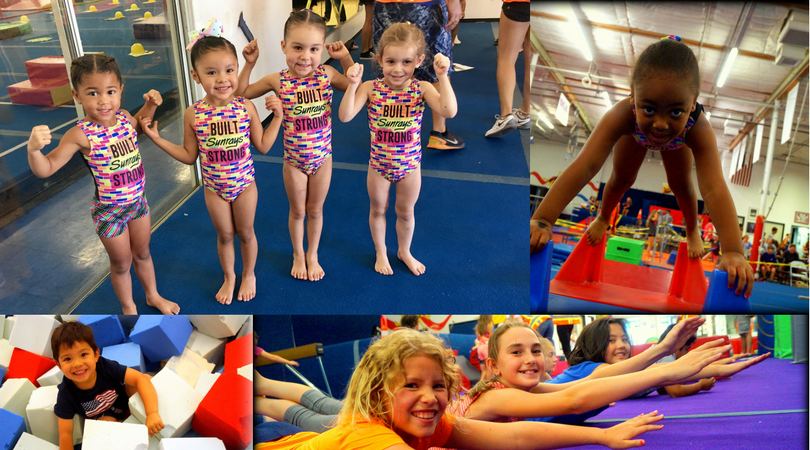 Gymnastics is an excellent skill development sport that will provide your toddler with the foundation that they need for other sports.
They will become more flexible, more balanced, more agile and stronger.
The fundamental skills needed for early success in gymnastics are not as hard to develop as with other sports.
Gymnastics will also provide your child with a good blend of team and individual skill development.
Soccer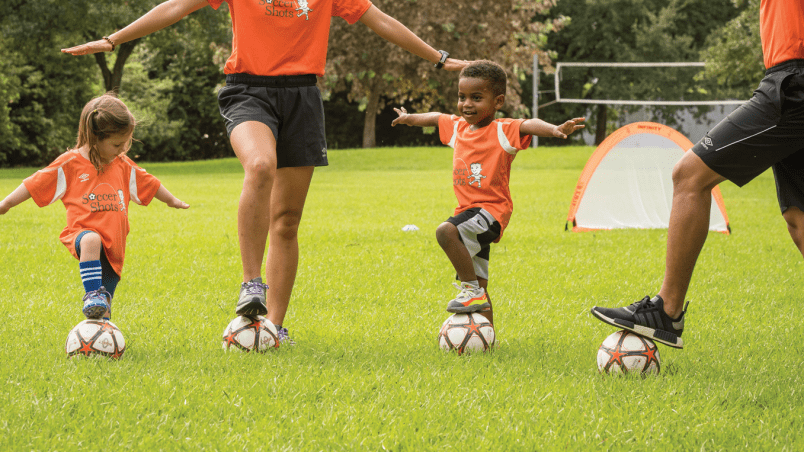 Soccer is a fun, team sport that is relatively safe for young children to play.
It will help kids explore and develop their balance, foot-eye coordination and lower body dexterity.
Your child will be running up and down the field a lot, which is great for their cardiovascular fitness and will help burn calories.
They will also develop valuable team skills and learn to interact with other toddlers in a physical environment.
However, there are some risks involved with soccer for toddlers.
Their developing brains are not ready for heading the ball so this should be avoided. In fact, the American Academy of Pediatrics recommends that all children under the age of 13 should avoid heading a soccer ball.
Swimming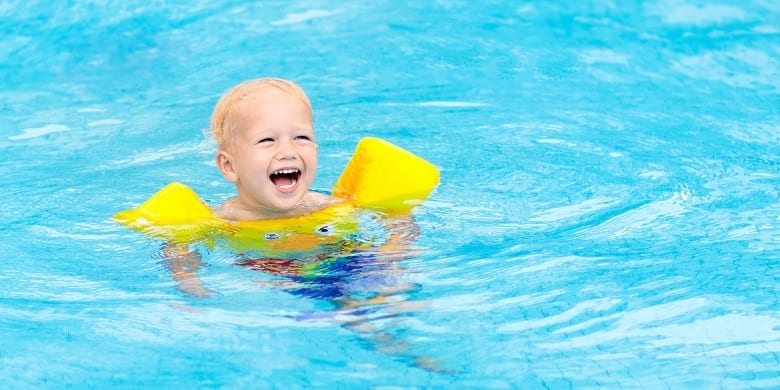 You should introduce your child to the water by enrolling them in swimming lessons as early as you can.
Once they enter the toddler years, you'll know whether or not they have an affinity for the water.
Even if they are not natural swimmers, you should consider continuing with swimming lessons to help them develop confidence in the water.
But if your little darling is a water baby, you can consider putting them into a swim team.
This will allow your child to enjoy the benefits of one-on-one instruction while also getting to experience the joy of team participation.
They will be able to enjoy lots of fun engaging water-based games in an organized way under the guidance of a trained instructor.
Basketball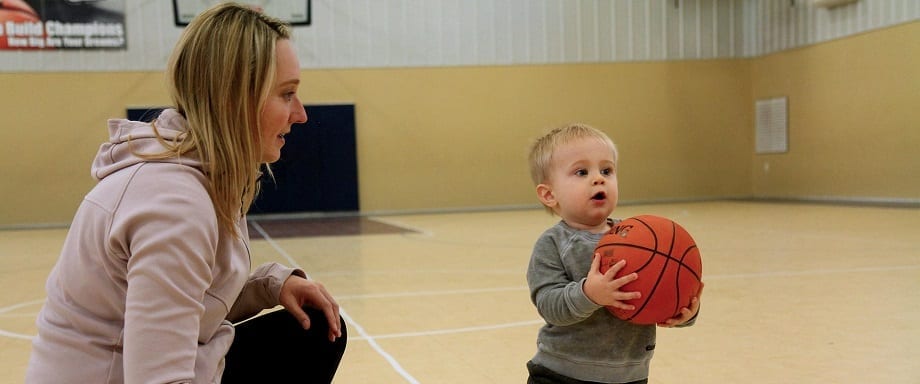 Basketball is a hugely popular sport among kids.
It is unique in that it is a team sport that a kid can practice on his own for hours on end.
Start your toddler off with a mini basketball hoop that you can place right in your lounge room. It is a great activity to help your youngster to develop hand-eye coordination.
Of all the team sports out there, basketball is also among the least dangerous. It will get your kid running more than any other sport, too, which has got to be good for their health.
Baseball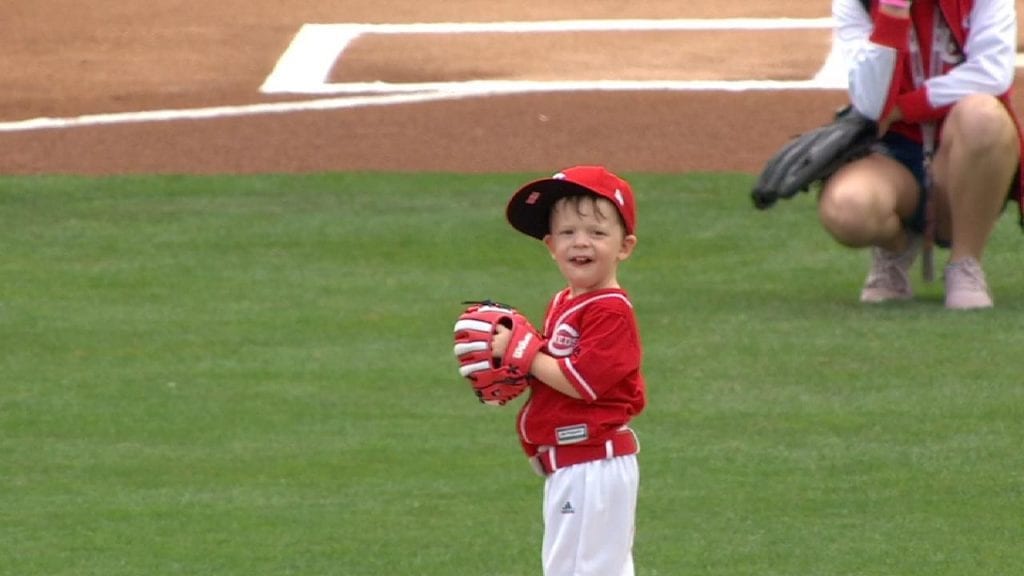 Baseball is ingrained as America's past-time, so it won't take long for your youngster to see it on TV and hear adults talking about it.
It's a pretty safe bet that he or she is going to want to have a try at swinging a bat themselves.
You should actively encourage this as baseball will help your child to develop hand-eye coordination, balance, agility and overall body strength.
You can introduce your toddler to baseball by buying them a portable t-ball set that they can use in the backyard with plastic balls. Once they have gotten pretty good at hitting the ball off the 't', start giving them very soft pitches.
Set up bases around the yard or even in a large room and get them used to the concept of hitting and running.
There are many toddler baseball organizations and camps that you can enroll your child in.
The emphasis will be more on participation than the competition.
However, your child will still be able to develop the key skills of teamwork, discipline, and leadership.
Golf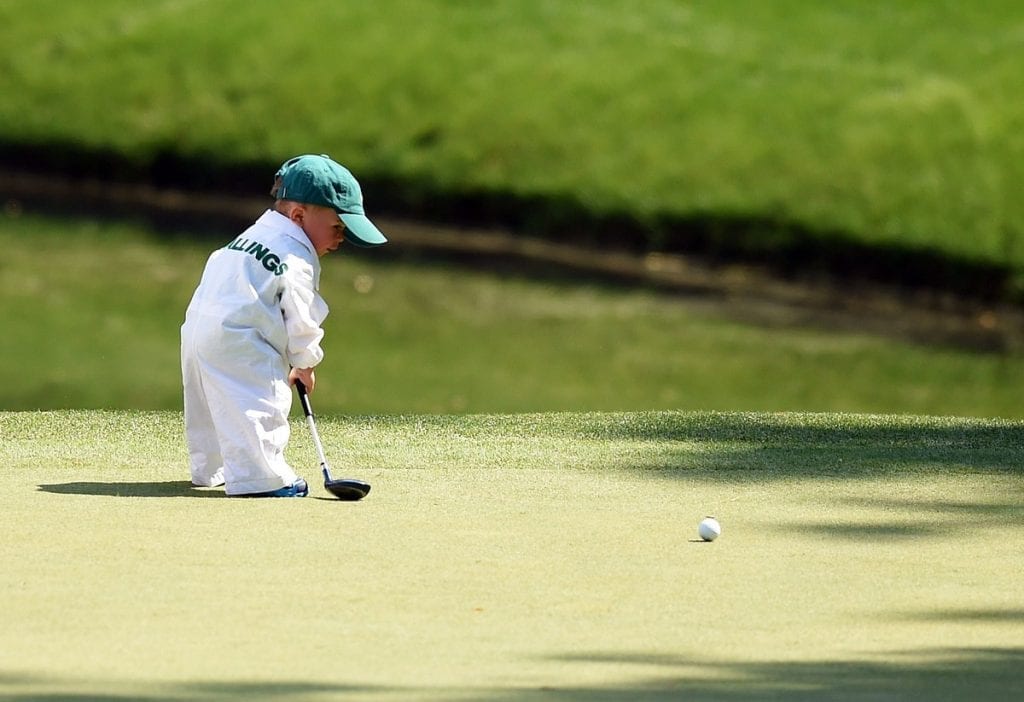 Golf is an independent sport that can provide your child with many hours of fun while developing hand-eye coordination skills. Read more about the benefits and how to get kids into golf.
Your child also gets lots of exercise by walking around the course.
When it comes to toddlers, the emphasis should be on the fun aspects of getting the ball in the hole.
You can purchase a mini-golf set for your youngster. Here are some reviews and recommendations for toddler golf equipment.
After showing them the basic concept, leave them to explore by themselves.
If your child shows a real interest and affinity for the game, take the mini-golf set out onto an open field and start them further away from the hole so that they have to hit the ball 2-3 times to get it close to the hole. Toddlers can also start at the local driving range at any age.
Tennis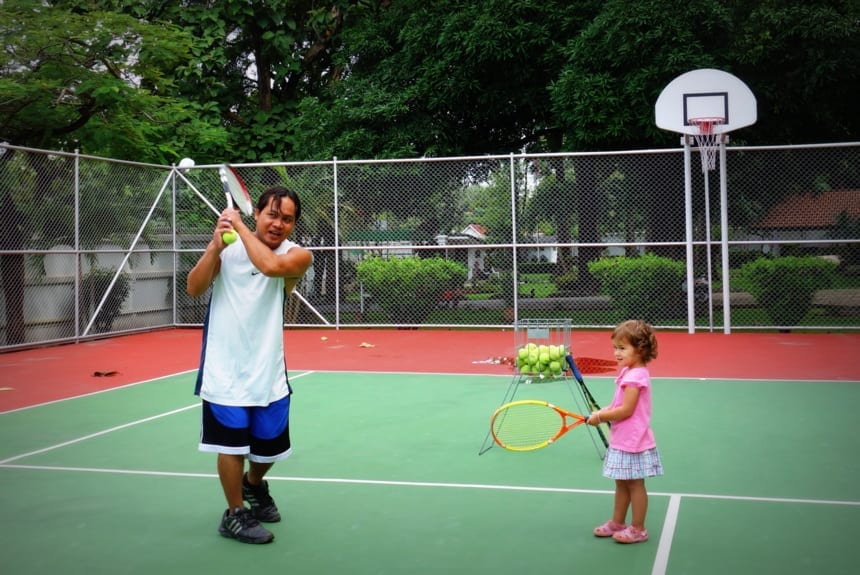 Tennis offers a whole host of benefits for youngsters.
These include hand-eye coordination, increased bone strength, cardiovascular health improvement, agility, flexibility, along with both gross and fine motor skill coordination.
They also learn what is called dynamic balance, which is characterized by run-stop-run type movement. Tennis is a fun activity that most kids really enjoy.
Just be mindful that it's all about enjoyment at this age, not competition.
Tips for Getting Your Toddler Into Sport
When it comes to toddlers and sport, it usually ends up with the kids running around in a sort of 'organized chaos' rather than anything that resembles adult sport.
But that is precisely what is needed at that age.
Competition and over-reliance on rules can be counter productive and may actually turn the child off the sport. There will be plenty of time for more structured activity in the years to come.
As a parent you should avoid being single-minded in what sport you want your child to play.
Let them experience a wide range of options and gravitate naturally to the one which they have an affinity towards.
Don't over commit your child to sports activities – or anything else for that matter.
You need to give your toddler plenty of free time to play, explore and just relax in an unstructured environment.
If your child has a schedule that commits to a different thing every day, you might end up with a burnt out pre-schooler.
Toddler Sports FAQ
Some frequently asked questions:
Is there evidence that toddlers who play organized sport will do better in later sporting life?

According to Brooke de Lench, author of Home Team Advantage: The Critical Role of Mothers in Youth Sports "Studies have shown that kids who take sports and exercise classes as preschoolers are no more likely to be involved in high school sports than kids who don't."
This underscores the point that there is not a big advantage in pushing your child into toddler sport. If they enjoy it, go for it – if not, dont! Do it for the fun!
What are some good activities to engage toddlers before they begin an organized sport?
Simple ball games in the backyard, such as kicking passes, teach toddlers important skills such as rolling, kicking, throwing and catching.
You should also play group games with your child such as hide-and-seek, musical chairs, duck-duck-goose and freeze-tag. You can also introduce your toddler to riding a bike at this age.
Throwing a ball into a hoop or a bucket will help to develop upper body coordination.
Finally, games like hop-scotch and Simon Says will help to develop balance and coordination.
What type of athletic equipment is best suited for toddlers?
Large soccer balls, whiffle balls, soft baseballs and junior sized basketballs are all appropriate.
You should keep hard baseballs, regulations basketballs and adult-sized tennis rackets away from toddlers.
Make sure that all equipment is size appropriate for your toddler. Using equipment that is too big will only frustrate your child.
Conclusion
There are plenty of reasons to introduce your toddler to sports and in this article we've identified the seven best sports to help them develop the motor skills and base fitness levels that will benefit them for the rest of their lives.
Just be careful not to push your child into sport.
At this age, it should be all about fun, excitement and enjoying time with their peers.