When your kid is passionate about a sport you want to do whatever you can to help them excel at it.
For many kids, that passion is soccer, and there's no piece of gear more important than their shoes. As parents, equipping them with the most kid-friendly soccer cleats is our top priority.
Table could not be displayed.
Finding the best soccer cleats for kids can be a challenge though, and there's quite a bit to consider.
Not only do you want to find a quality pair of shoes that are going to support them during their fast-paced training and challenging games, but they also have to be reasonably priced as there's a good chance you'll be replacing them each season as your kid grows.
The best youth soccer cleats also need to meet the style of soccer your kid plays, the type of field they play on, and their position in the game.
It's easy to see why shopping for kids soccer shoes is something a lot of parents put off to the last minute, but with our helpful buying guide, you won't have to.
Our recommendations for the best kids' soccer shoes have everything you need to feel good about putting your kid in.
They're comfortable, supportive, and versatile, as well as being reasonably priced. Check out our top picks for kids' cleats to save the hassle of searching for yourself.
Best Kids Soccer Cleats – Reviews & Buying guide for 2020
Winner: Dream Pairs Football Cleats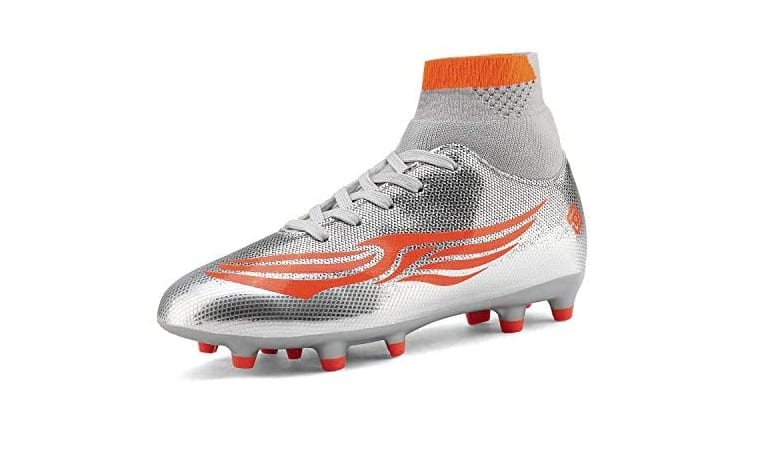 Our number one choice for the best soccer shoes for kids comes from Dream Pairs with their fully synthetic soccer cleats.
Their sizes range from toddlers to older kids so there's something for everyone and they're designed for different surfaces including grass and AstroTurf.
They feature a synthetic upper and PU lining so they'll last all season, and even longer if your kid doesn't grow out of them.
The best thing about the Dream Pairs Soccer Cleats it the turf outsole on the bottom. Thanks to this specially designed texture, your child will be able to run and kick the ball with the best grip possible.
The turf outsole works on wet grass and even synthetic grounds so it's ideal for any setting.
These shoes are made tough and so much so that kids may find them hard to get on at first. Some customers complained about the hardness of these cleats whereas others praised them for their durability.
After a few weeks of regular wear, the shoes should loosen up a bit, so you might want to have your kid wear them at home to make them more comfortable before they have to play.
Other notable features of the Dream Pairs Soccer Cleats include the high top socks built into the shoes. This helps somewhat to protect your child's ankles from any friction and adds another layer of comfort.
They're lightweight and easy to run in and feature a strong synthetic upper that gives them a grip on the ball and allows for better handling. They come in 12 different colors to suit girls and boys, and all with modern designs.
The Dream Pairs Soccer Cleats are reasonably priced at less than $25 when you shop on Amazon.
According to their size guide, most people find them to be the perfect fit and there are free returns offered on most sizes and colors in case they're not the right pair.
These kids' soccer cleats tick all of the boxes for kids and are affordable enough for parents, so the Dream Pairs Soccer Cleats are our number one pick.
Runner Up: Diadora Cattura MD Kids Soccer Shoes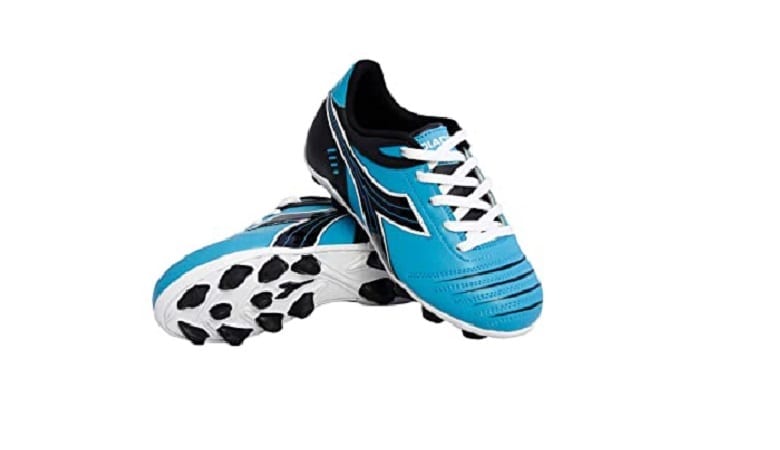 Italian sportswear heroes Diadora have created one of the best kids soccer shoes with their Cattura MD range. These shoes start at 8C in toddler size up to 6.5 for big kids, and they're the perfect fit no matter their age.
The upper of the shoe is made with soft polyurethane and the outsole is a molded rubber, giving them the real deal just like professional soccer player's shoes.
The best thing about these cleats is that they're comfortable, and when looking for soccer shoes for toddler feet especially that's a godsend.
They have a padded nylon ankle collar lining and EVA foam inside to absorb shock and give them a soft base for their feet.
Even after hours of play, we're certain that they'll still want to keep their shoes on. For extra comfort, you can add a thicker sock, but according to most parents, it wasn't necessary to do.
A few parents have noted that the shoelaces frayed almost immediately with these cleats and it's something that Diadora has addressed in the reviews.
Having to replace them can be hard to do with cleats, so you're better off having them returned for a new pair. Because you have to pay for the return shipping though, this is a pretty big inconvenience and it definitely lost them some points.
The Diadora Cattura MD Kids Soccer Shoes feature a molded rubber outsole with 14 studs placed on the sole in a special pattern.
These studs have been placed in a design that reduces pressure on your kids' feet, and also with a wider spacing on the heel to help their stability on the field.
You have the option of four different designs with colors to suit boys and girls, and a huge selection of sizes for the smallest kids to the biggest.
These shoes are priced a little higher at around $30 from Amazon plus shipping costs, which makes the frayed laces annoying, but for the comfort they provide, it's worth it.
The Diadora Cattura MD Kids Soccer shoes are soft and supportive with sizes that offer the perfect fit, so they'll help your kid to excel on the field for sure.
Alternative: Vizari Striker Kids Soccer Shoe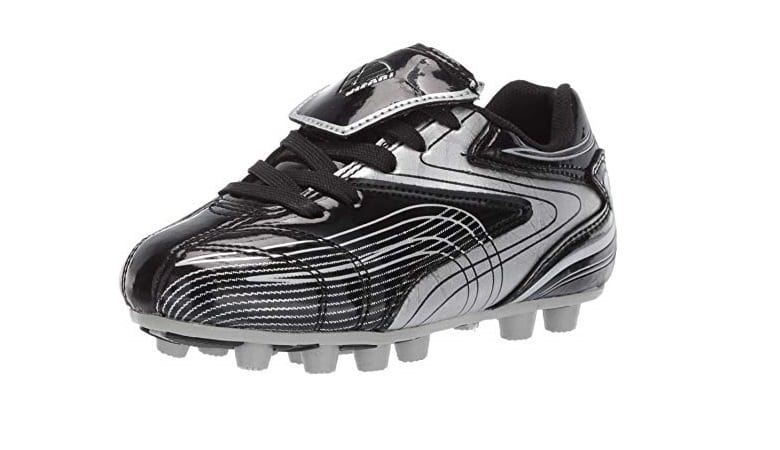 The Vizari Striker Kids Soccer Shoes are a softer style of shoe for kids who prefer comfort over durability. These cleats are made with a molded rubber outsole that helps to protect their feet but also gives them traction on the field, even in wet conditions.
There are four different colors to choose from and styles that suit boys and girls with a shiny synthetic leather finish, and their sizes range from 8 in a toddler shoe to 6.5 for bigger kids.
Comfort is by far the best thing about the Viazri Striker Shoes and they're the perfect choice for parents who've had a hard time finding cleats that their kids actually want to wear.
They have a soft synthetic leather upper that won't crowd their feet with a molded rubber outsole that allows them stability and grip on the field without feeling too tough on them.
On the downside, this comfort does come at a price. The Vizari Striker doesn't seem to be as durable as other soccer shoes so you can expect them to last a season and not much longer.
It depends on whether you want something comfortable that your kid will feel good wearing or a more durable soccer shoe that's going to give their feet support, even if that support sometimes feels uncomfortable for them.
The outsole of these shoes has been stitched to the upper which does help with durability somewhat, but you'll have to take care of them. The Vizari Strikers are water resistant but not waterproof so it's better not to play in conditions that are too wet.
According to reviews, the sizing is pretty spot on so you can shop for your kid's size and will be pleased with the results. Considering how fast kids' feet grow, having a comfortable shoe that only lasts one season isn't too bad, unless they plan on sharing with younger siblings.
These shoes are reasonably priced at around $15 for the toddler sizes and $30 for the big kids' sizes, so you get what you paid for.
Amazon offers free returns on most sizes and colors in case they're not a perfect fit, but most parents are thrilled with the comfort these shoes offer.
The Vizari Striker Kids Soccer Shoes are soft, stable and offer a lot of grip, and your kid will never want to take them off even once their game is done.
Alternative: Joma Kids Toledo Soccer Shoe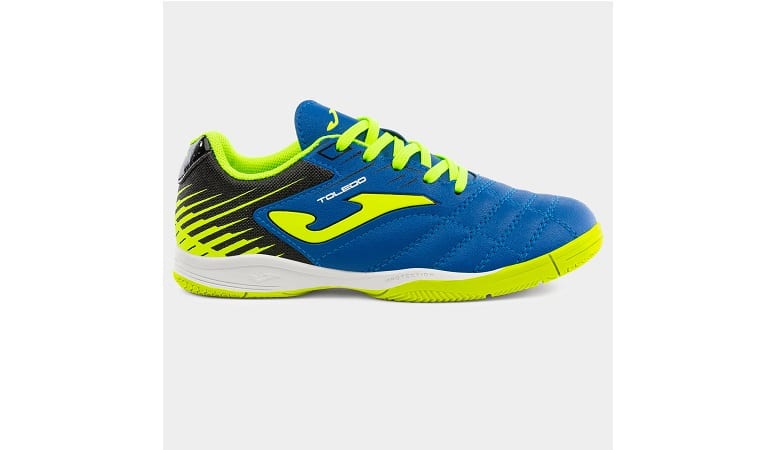 When money is no object and you're looking for a professional style shoe for your kid, the Joma Kids Toledo Soccer Cleats is a great choice.
The sizes of this shoe range from 7 in a toddler through to 6 for big kids, and everything in between, so they have the perfect fit for all ages.
Made with the highest quality synthetic materials and rubber, they're durable and supportive, giving them everything they need to perform out on the field.
The best thing about these shoes is how well made they are, easily resembling adult's professional soccer shoes.
They're made with a flexible Fibertec upper with a rubber sole that's durable but still comfortable, so your kid will find them light and easy to run and play with.
It's clear the materials used are all high quality and you can see it just by inspecting the stitching and soles, so if you're prepared to pay a little extra then it's worth it to get a premium pair of cleats.
One area of the shoe that parents seemed to complain about is the tongue, as some of them found it a little stiff.
Some kids developed blisters after the first time they wore them, so you might want to have your child wear their new cleats around the house with thick socks to break them in. This will prevent any discomfort on the field and hopefully stop any blisters.
According to customers, the sizing ran a little small as well, with only around 70 percent of buyers saying they were true to size.
The Joma Kids Toledo Soccer Shoe is made for outdoor, turf, and grass so whether your kid plays indoor or outdoor soccer, they'll find them the perfect choice.
The rubber sole is lightweight so they'll be agile on their feet and it features a brushed nylon interior for comfort. The molded sole gives them stability and helps them keep their balance, and they're made to suit both boys and girls.
Amazon has the best price for these kids' shoes for around $20 for the toddler sizes and $55 for the big kids' sizes.
They're priced a lot higher than others we've reviewed but they're well made and good quality, so if you plan on using them for a long time it's probably worth it.
The Joma Kids Toledo Soccer Shoe is durable and lightweight, provided you can get the right fit, and they'll help your child excel at their favorite sport.
Best Soccer Cleats for Girls: Vizari Infinity Soccer Cleat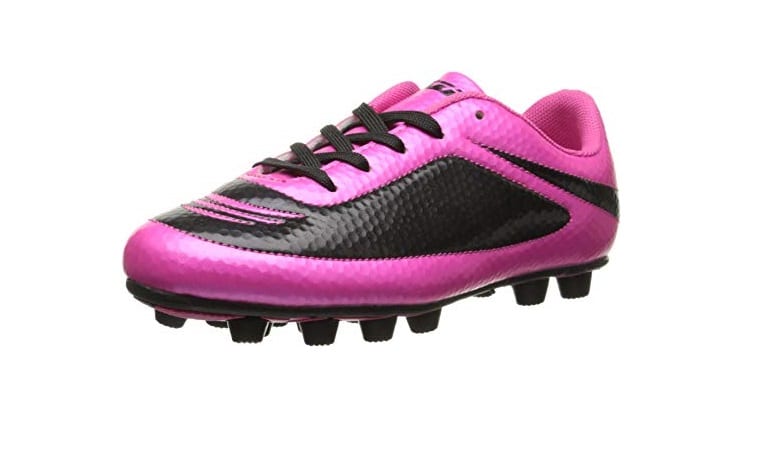 Little girls' soccer cleats can be harder to shop for than boys, but if you're in the market for them, our number one choice is the Vizari Infinity Soccer Cleat.
Made by the trusted sports shoemaker, the Vizari cleats are high quality and comfortable for girls' feet, with sizes ranging from 8 in toddler through to 6 in big kids.
Featuring synthetic uppers and a rugger outsole they have the perfect mixture of comfort and strength, so no matter where your girl plays soccer she'll feel good.
The best thing about these shoes is the thought that's gone into the outsole. Made with a flexible rubber, the outsole lets your kid move freely on the field, and they have rugged studs to keep them stable and offer traction.
The studs make these shoes ideal for both indoor and outdoor games so regardless of the condition they play in, they're our favorite choice for girls soccer cleats.
On the downside, they are more expensive than most, and they're far too big for the advertised size.
Most parents found they had to return the shoes to swap them for something smaller so you'll need to do exact measurements of your child's feet to match them with the right size.
The Vizari Infinity Kids Soccer Cleats come in two-tone color designs that make them great for girls and boys, and they're so bright you won't miss them on the field.
The shoe features a padded collar and footbed so they'll be supported and comfortable for hours without complaints and with the flexible rubber outsole they won't feel rigid.
The Vizari Infinity also has adjustable laces so your kid can do tighten their own shoes for a fit that makes them most comfortable.
If you're happy to spend a little extra, the Vizari Infinity Kids Soccer Cleats are the best choice for girls, priced between $20 to $40 depending on the size.
Spend some time ensuring you get the right fit for your kid, and you'll be rewarded with a high quality and comfortable soccer cleat that they'll want to wear hours after they finish playing.
Kids Soccer Cleats FAQ
Shopping for kids' shoes is never easy, and that is especially true when it's a specialty sports shoe like soccer cleats.
We've answered some FAQ that parents have about these shoes and how to get the right fit, so you can be equipped with everything you need to buy them the perfect pair.
Can Girls Wear Boys' Soccer Cleats?
Soccer cleats are designed to suit both boys' and girls' feet when they're younger, and as they get older it's recommended to shop for their gender.
However, you will need to be careful with sizing if you're purchasing a boys style shoe for a girl. As boys and girls' shoe sizes differ, it's best to measure your kids' feet to find the right fit rather than going by their regular shoe size.
Do You Need Soccer Cleats For Astroturf (Fake Grass)?
Soccer cleats are recommended for all types of playing surfaces, including fake grass, and you can purchase shoes specifically for this setting.
A firm ground cleat will work on both indoor and outdoor soccer fields so it's better to purchase something versatile enough to suit them all, in case they ever have a change of playing field.
What Size Does Your Kid Need?
The best way to choose the right size of soccer cleats is to measure your child's feet and then match these to the manufacturer's sizing.
As sizes can change depending on the manufacturer, it's better not to shop for their regular shoe size. They should be a comfortable fit with enough room to grow for at least the next year.
How Should Kids Soccer Shoes Fit?
The best fit for a kids' soccer shoe is something that feels comfortable to wear but one that fits more snugly than other sports shoes.
Choose a shoe with a synthetic upper as it will hold its shape longer and give them room to grow without overcrowding. Make sure there is some room to grow at the top but without making them too big so they can't be tied snugly.
Comfortable Cleats for Their Best Game Ever
A good pair of soccer shoes will result in a good performance on the field, and this is definitely the case when it comes to kids.
Children's soccer cleats should be comfortable and supportive, but durable enough to go the distance, and that's exactly what we've found in our top picks.
You'll notice an immediate difference in their performance and demeanor with the right pair of shoes on their feet, so it's a purchase you shouldn't take lightly if you care about their wellbeing.
Any of these shoes will make your little soccer star happy and give you some peace of mind that you've done the best for them that you can.
---