Best Trike
Best For Boys
Best For Girls
Best For Balance
Type
Bike with training wheels
Bike with training wheels
Irrespective of whether you were a keen cyclist before your kids came along or just started admiring your neighbor's new bike, you may assume that your days of cycling are over now that you have children in tow.
However, it doesn't have to be this way. In fact, this is one of the best times to cycle. There's a huge range of bike seats, trail essentials and bicycles on the market which means that cycling with your kids is now easier than ever before.
Psyching is also great for kids as it helps them get the recommended 60 minutes of physical activity per day. So once you've invested in bikes and some basic kits, it costs very little to provide the multiple benefits of cycling.
There are various options on the market for you to pick, choose and refuse. So stay tuned as we take a closer look at the best toddler bikes available.
Best Toddler Bikes – Reviews & Buying guide for 2020
Overall tRIKE: XJD 3 in 1 Kids Tricycles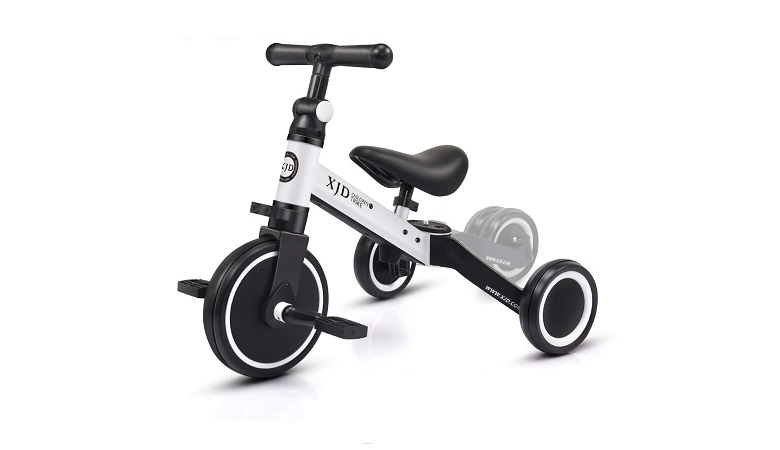 The XJD 3 in 1 kids tricycle is a performance trike that is uniquely designed to be a child's favorite new ride.
So if you're looking forward to giving your child a happy and healthy childhood, this is one of the best ways you can start. The trike grows with your child and offers 3 unique ways to ride.
Toddler trikes offer comfort, fun and convenience. The sturdy trike includes a steel construction, comfort adjustable angle grip handlebars as well as quiet ride wheels.
The adjustable seat will make sure that your child enjoys the trike for years plus it comes with a fun, detachable pedal.
Compared to a normal baby tricycle, this one is specially designed to minimize the danger of riding. Your baby can be active and still enjoy cycling at an early age.
The transition will pretty much be seamless to the pedal pushing bike. So you won't get to run behind him, shouting beautiful encouragement the way it's normally displayed in the media.
This trike offers two-wheel balance bike mode. This option is recommended for a younger baby to use or kids between 2 to 3 years old as the rear wheel can be folded, and the tricycle is then converted into a two-wheel-balanced bike.
There's also the pedal tricycle mode. Once installed, the pedals allow the baby to ride the tricycle forward with his feet. This trains babies to learn to steer the bike.
The three-wheel sliding mode is a bonus and is an option for 10 to 24-month toddlers who don't have good balance ability.
The handlebar can be adjusted, and so can the seat height ensuring that your toddler can use the trike for as long as possible.
The nonslip Eva foam tire is also wear-resistant, ensuring the utmost safety for your baby. The sturdy carbon steel frame ensures that the trike lasts for years to come.
Overall, this bike is easy to assemble, sturdy, comfortable and comes with a fully enclosed wheel that avoids clamping on the baby's feet.
Pros
Suitable for ages 1 to 3
Helps toddlers learn to steer
Safety guarantee
Cons
Users say that bike is too small for 3 years old
Product specifications
Size: 19 inches, Suitable for 1 – 2 years
Type: 3 in 1 trike
Breaks: Not specified
Minimum Age: 10 months
Runner Up: Radio Flyer 4-in-1 Stroll 'N Trike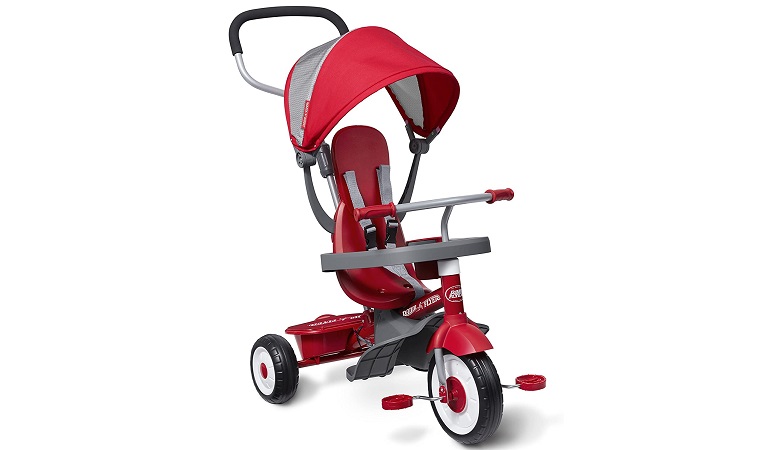 This 4-in-1 Stroll 'N Trike is the ultimate grow with me trike. It offers 4 ways to ride, and the trike features a removable wrap-around tray consisting of a cup holder, adjustable UV blocking canopy and a three-point safety harness.
The trike also consists of wide rear wheels that provide a quiet ride and a removable footrest for early stages as well as a handy storage basket for essential items.
The parent steering push handle can be removed when your child is older, while the sturdy frame and adjustable seat and adjustable frame ensure it lasts for years to come. The trike is suitable for ages nine months to five years.
Pros
4 in 1 ride
3 point safety harness
Suitable for 9 months to 5 years
Cons
Parent handle doesn't stay in place
Product specifications
Size: 35″ x 19.9″ x 40.75″, 9 months to 5 years
Type: 4 in 1 stroller/Trike
Breaks: Not specified
Minimum Age: 9 months
bEST bIKE FOR Boys: Schwinn Koen Boys Bike for Toddlers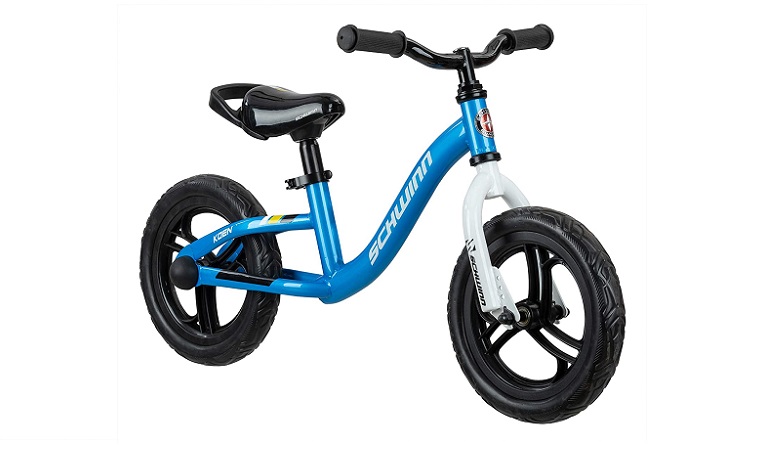 The Schwinn Koen Boys Bike for Toddlers and Kids is designed to help young children develop balance and coordination as they learn to ride.
It's suitable for ages 2 to 4 and contains a SmartStart steel kids balance frame with rigid fork features and kid-specific proportions for easy handling.
The quick-release seat offers easy satellite adjustments while the ball bearing headset with steering limiter offers smooth steering and added stability.
The trike contains 12-inch mag wheels with Eva foam tires which provide a smooth ride and is also non slip. The narrow rear wheel spacing with axle guards help protect delicate ankles when scooting.
Pros
Eva foam tires for extra grip and smooth ride
Adjustable seat
Steel frame
Cons
Product specifications
Size: 2 to 4 years
Type: Bike
Breaks: Coaster
Minimum Age: 2
bEST bIKE For Girls: Schwinn Elm Girls Bike for Toddlers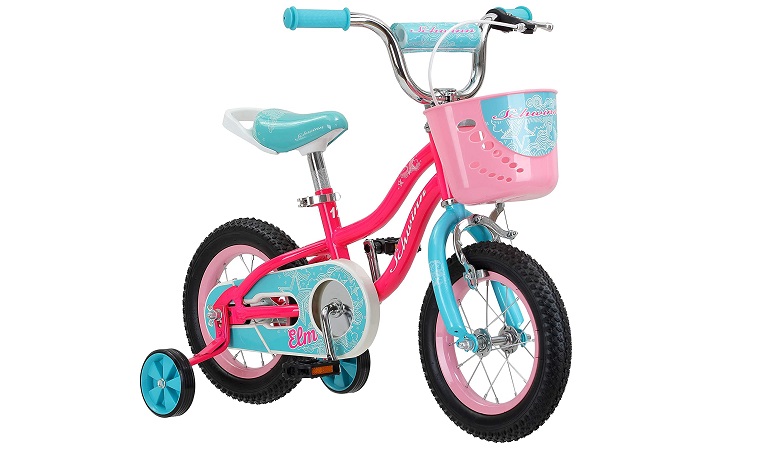 The Schwinn Elm Girls Bike for Toddlers and Kids is a complete redesign of bike geometry to better manage your child's body type and create a more comfortable and ideal riding position.
Some of the adjustments to the bike include a lighter frame for added and easier control, a smaller grip diameter to suit smaller hands and narrower pedal position to accommodate children's smaller hips.
While other kids bikes are simply shrunken versions of adults bikes, this one is specifically made for children.
You can expect to experience zero wobbles while the child pedals so they will feel more confident and comfortable going through the learning process.
The seat angle was also changed so as you adjust the seat the reach distance to the handlebar also increases meaning that the bike will fit your child longer.
Some of the bonus features on this bike include 12-inch wheels. Therefore, it is suitable for 2 to 4 year olds. An adjustable saddle and a slack seat tube angle allow the bike to grow with your child and it comes with the training wheels as well.
The version with 16-inch wheels is suitable for 3 to 5 years old, and the 20-inch wheels will suit children six years old and upwards.
Pros
They are specifically designed to fit children.
Improved design is safer and easier for kids to ride.
Ready to assemble
Cons
Product specifications:
Size: Suitable for kids aged 2 to 6 depending on wheel size
Type: Bike with training wheels
Breaks: Yes
Minimum Age: 2
Best fOR Balance: Schwinn Skip Toddler Balance Bike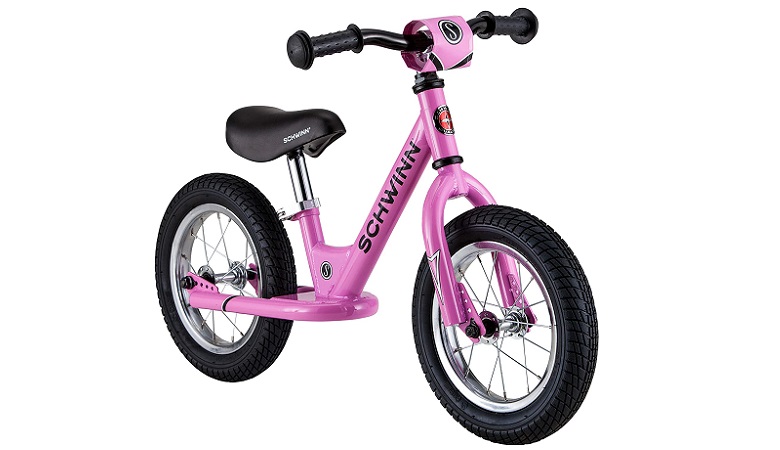 The Schwinn Skip Toddler Balance Bike contained air-filled tires making it easier to control and adjust the seat height. The handlebars are adjustable and great for your growing child.
Thanks to the adjustable seat height and quick release collar, the bike is designed to grow with your little one as they learn to balance and easily transition into a traditional bicycle.
The foot to floor design for first-time riders aims to enhance coordination and confidence to prepare them for the pedal bike.
Pros
Lightweight steel foot-to-floor frame
Easy steer handlebar
Air-filled tires
Cons
Tires release air quickly.
Product specifications
Size: 2 to 4 years
Type: Bike with training wheels
Breaks: Yes
Minimum Age:2
Toddler Bikes FAQ
Difference between bikes and trikes?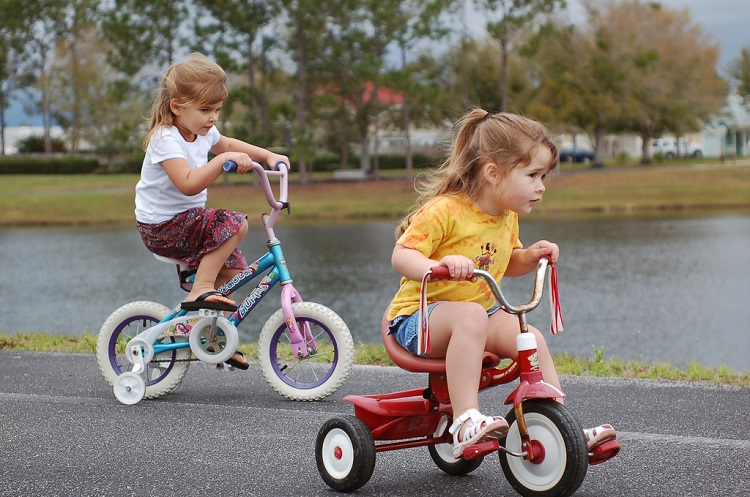 Childhood is all about having lots of fun but also learning many different things. One of them is how to ride a bike; it's almost like a rite of passage.
While most people believe that children should learn to ride a bike, other parents have a varying opinion when it comes to how children should learn to ride. First, should they learn to write a balance bike or a tricycle?
Lots of people consider their options when it comes to bikes and tricycles, but there's also another option, training wheels. The fact is most parents don't know the difference between a tricycle and training wheels, so let's get those options sorted out.
Bicycle
Bicycles are what started the whole debate of whether a balance bike or trike is the way to go. A balance bike or bicycle is a pedal-less bike that children push along on their feet.
Children learn to balance on two wheels and push along, from as young as eight months old. Bicycles focus on balancing and not pedalling.
In comparison to tricycles, this is a newer trend and many parents from the older generation are not very familiar with it neither are they comfortable with this concept.
Tricycle
As the name suggests, a tricycle is quite simply a three-wheeled bicycle. People also call it a trike. These trikes come in a wide range of sizes and shapes, and children as young as 18 months of age can be seen riding them.
For generations, tricycles have been a child's first experience when it comes to cycling. In fact, in countries like Singapore, you often find grandparents taking leisurely strolls with their grandchildren vigorously pedalling along in a cute trike.
How old do toddlers have to be to ride bikes?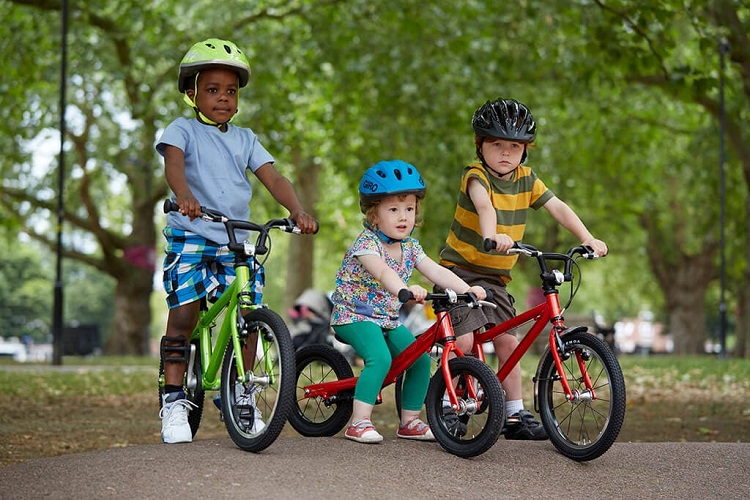 When it comes to the question of how old your child should be to ride a bike, there is no clear-cut or straightforward answer. This is because it largely depends on your child's physical development.
Coordination, as well as fine motor skills, also play a huge role in how soon your child can ride a bike. According to the US Consumer and Product Safety Commission, most children are ready to ride a  bicycle by the time they're five years old.
Physical readiness
Your child needs to reach a certain level of balance and coordination in order to ride a bike. Therefore children who cannot walk steadily without support have not yet developed enough balance to use a ride-on toy, especially a bike.
Some of the physical factors that determine the age for learning to ride a bicycle are balance, the rotational speed of the bikes wheels as well as propulsion.
Therefore, training wheels can provide more balance and stability as your child learns and pedalling or self-propulsion will allow your child to control the speed. 
That said, children as young as one and a half to two years old are able to learn how to ride a tricycle considering that it is a 3 Wheel ride and has added stability that is easier to steer than a bike.
Children between the ages of three and four years have well-developed and significant motor skills which allow them to learn how to balance on one foot, walk on their tiptoes as well as hop, skip and climb.
Therefore they can also learn to pedal at this age, use a handlebar and operate a three-wheeled vehicle including tricycles.
Children between the ages of 4 to 5 lose interest in ride-on toys, including tricycles and are now ready for bicycles.
Most five-year-old children have acquired the balance and coordination skills needed to operate a bicycle without the need for training wheels.
However, it is recommended that you always keep the training wheels on bikes and provide adult supervision until your child is old enough to understand the dangers and possible injury associated with a bike.
How to measure your toddler for a bike or trike?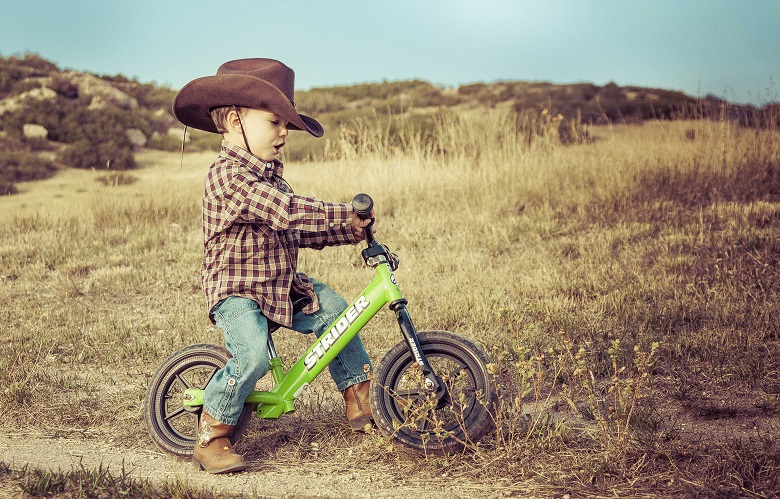 Children's bikes are sized by the diameter of the wheels. So when buying a bike for your child, the bike should be sized for the child at their current height.
Some parents buy a bike that is slightly larger, and this can often compromise safety and also presents more risk of an accident. To measure a toddler for a bike, you should measure the inseam and child's height as well.
Start by positioning your child against a wall, while they're standing up tall with their feet flat on the floor and heels touching the wall.
One end of the measuring tape should be placed on the floor between their feet. Thereafter, measure up until you reach the child's crotch. Then record the measurements in inches.
Then measure the child's overall height by placing a flat object like a ruler on the top of their head. Using a pencil, make a light mark on the wall. Measure from the floor to the mark on the wall to determine the child's height.
You can use these measurements to determine the appropriate size bike needed for the child.
According to Parenthood.com, children with an inseam of 18 inches and an overall height of 36 inches need a bike with at least 12-inch wheels.
Children who are 41 to 49 inches tall and have an inseam of 18 inches will need a bike with 16-inch wheels. Children taller than this with an inseam of 23 inches as well as an overall height of 50 to 56 inches would require a bike that has 20-inch wheels.
How to teach a toddler how to ride a bike?
While there are parents out there who prefer to teach their kids to ride without pedals, most parents choose the pedals for safety reasons.
However, if you choose to go the route of no pedals, then simply lower the saddle slightly to allow your child to push themselves along and learn how to balance and turn on the bike.
This will give your child coordination development, and they will get to feel the balance of a bike as well.
However, the key to pedal-less bike riding is to keep the seat at a height that allows the child to just about touch the floor. If it's too low, they will rely too heavily on their feet as stabilizers.
When teaching a child to ride, you should choose a quiet place that has a tarmac surface. Avoid a place that is generally hilly or has ground that is uneven.
While it is tempting to choose grass as many feel that it would aid a soft landing, grass tends to make learning how to ride a bike quite difficult as they would have to push quite hard on a small bike.
When teaching a child to ride, hold on to the child's torso or under the armpits. It's imperative that you do not hold onto the handlebars because it only leads to fighting with them and makes the entire process of your child learning to ride a bike more difficult.
By holding onto the child and not the handlebar, they will learn how the bike reacts when they lean, and you can also accelerate that by gently moving the torso from side to side as they ride.
The Final Verdict
Cycling is considered a low-impact, healthy and fun-filled activity. Children also thoroughly enjoy it as it makes them feel independent and helps them to get it out.
They might find it's tedious in the beginning, but if you encourage and guide them, riding a bike will become their favorite pastime.
The bonus is that riding a bike has health benefits for your kids, such as exercising their cardiovascular muscles, building muscle mass, and reducing stress.
---