Best Toddlers Sports Center
Best Baseball Set For Toddler
Best Balance Bike
Best Basketball Set For Toddler
Introducing toddlers to formal sports is generally frowned upon. 
But that doesn't mean that you shouldn't introduce them to sports in the backyard. 
Sports toys for toddlers are a great way to get your toddler familiar with the basic concept of a sport without any of the pressure that comes with organized sport. 
The toddler sports toy market provides all sorts of sports offerings for your child. 
In this article, we delve into this market to discover the best of the best. 
We'll review the best toddler soccer set, the top toddler baseball set, the best balance bike and the overall top toddler sports center.
Our Reviews Best Toddler Sports Toys 
VTech Smart Shots Sports Center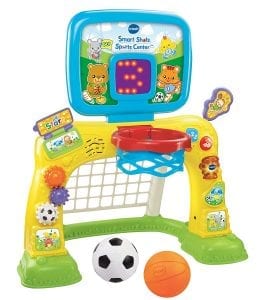 The V-Tech Smart Shots Sports Center is a 2-in-1 sports system for your toddler.
It provides a basketball hoop and a soccer goal.
It features a scoreboard which produces sounds when he child scores through the hoop or into the goal.
The scoreboard plays more than 50 songs and sounds.
This is a top quality center that teaches your child the connection between their actions and the reward of playing music.
The V-Tech Smart Shots Sports Center provides you with an extremely engaging, attractive sports center.
The reward based system of producing music when a goal is scored is a great idea.
It comes with an LED screen that counts the goals.
This unit is very easy to set up.
All you have to do is to snap lock a few individual pieces together.
There are two screws that connect the backboard to the main frame.
This requires a Phillips screwdriver.
The V-Tech Smart Shots Sports Center only plays music in the English language, which will disappoint those families in which English is not the first language.
Replacement soccer and basketballs are quite expensive.
The V-Tech Smart Shots Sports Center provides plenty of interactive features to keep your toddler engaged. 
These include levers, gears, pages and buttons that can be pushed, twisted and turned. All of these actions trigger sounds and lights.
The unit comes with a soccer and a basketball. 
It engages virtually all of your child's senses. If he or she gets bored with the ball play, they can sing or dance along to the music by playing with the levers and gadgets.
The VTech is a lightweight unit that is easy to move around. The assembled weight is just five and a half pounds. 
To keep mom and dad from going crazy, this sports center also has a volume control!
The V-Tech Smart Shots Sports Center is very reasonably priced. This is a very impressive toddler sports center that will really engage your kids.
It's got a built-in incentive system to encourage goals, lots of interactivity and is lightweight for easy portability. This is easily our favorite sports center for toddlers.
VTech Smart Shots Sports Center, Red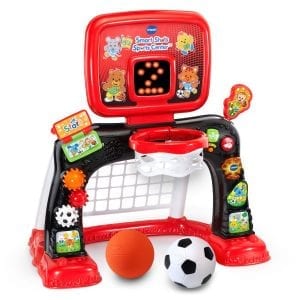 The V-Tech Smart Shots Sports Center, in red and black is very similar to our top rated product, which comes in yellow and blue. 
It is slightly smaller and weighs a little less than that product. 
It features a similar animated LED scoreboard to engage your toddler, along with  a scoreboard that counts goals and plays music to the tune of more than 50 songs, melodies, sounds, and phrases.
The V-Tech Smart Shots Sports Center in red and black is a dual sport center that allows your toddler to explore his or her basketball and soccer skills.
The animated scoreboard will add to the score whenever the ball touches the soccer net or passes through the basketball goal.
A puppy printed LED screen records the count and number, while encouraging interaction with fun animations.
The center comes with more than 50 sounds, songs, melodies and phrases. 
They are able to manipulate shapes and numbers as they interact with the various levers, gears and pages.
The basketball hoop on the V-Tech Smart Shots Sports Center does not a have a height adjustment.
The music and melodies are also only available in English.
This sports center comes with a support base, soccer net, one character, three gears, and two balls.
It is made from durable heavy duty plastic.
It is sturdy enough to handle any rough treatment your toddler can throw at it.
The V-Tech Smart Shots Sports Center in red and black is an excellent value fun sports center that has plenty of variety and tons of interactivity to keep your toddler engaged.
It's animation and sound effects will grab and sustain attention while its sports features will help develop motor coordination.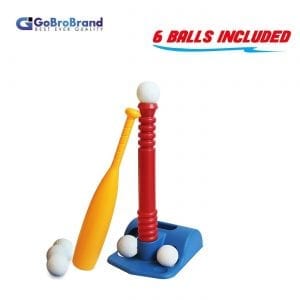 The ToyVet T-Ball Set is a great introduction for your toddler to America's past-time. 
This set consists of a heavy duty T-ball set consisting of a solid stand an T-ball support.
You also get six balls along with a large lightweight baseball bat.
The ToyVet T-Ball Set is a fun, engaging way to introduce your toddler to baseball.
This is a very simple, lightweight and easy to put together unit.
It's made from heavy duty plastic to ensure that it will last well into your child's school years.
The base of the ToyVet T-Ball set is not weighted.
This usually won't be a problem but may be if your child is more robust than usual.
The T-height is fully adjustable on the ToyVet T-Ball set.
This allows you to adjust the height as your young one grows.
You also get six balls, to allow your toddler to practice swing after swing.
Your purchase includes a carry case so that you keep everything compact and together when you're not using it.
The 22-inch long bat is ergonomically designed and ideally weighted for a toddler to handle.
The ToyVet T-Ball set is a well made, lightweight t-ball set for toddlers that is a good introduction to baseball for under fives.
You get half a dozen balls and a quality bat, along with an adjustable t-stand.
It's a little pricey but your kid will love it.
Strider – 12 Sport Balance Bike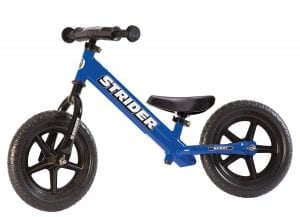 The Strider 12 Sport Balance Bike is an innovative training bike that allows your toddler to learn to ride a bike without training wheels. 
It features never flat no maintenance tires. 
This fully adjustable bike allows your youngster to enjoy the thrill of riding before they are even out of diapers!
The Strider 12 Sport Balance Bike features the patented Strider design that allows toddlers to learn to ride without the restriction of training wheels.
The wheels on this bike are completely maintenance free, so they never have to be inflated and will perform on any type of surface.
The bike is quite expensive.
It does not come with a user manual, not does it provide you with real rubber tires.
The Strider 12 Sport Balance Bike adapts as your child grows.
It has an adjustable seat and handlebars  with a 12 to 20 inch inseam. 
It can be adjusted without tools.
You can also upgrade the bike as your child becomes more confident, adding a foot brake and heavy duty tires.
This bike is extremely lightweight, weighing in at just 6.7 pounds (3 kg).
It also features mini grips to allow your toddler to get a secure, safe grip on the handlebars.
There is also a handlebar pad for extra protection.
You also get a durable steel frame.
The seat and handlebars are well padded and the integrated foot rests are safe and comfortable.
The Strider 12 Sport Balance Bike is an extremely popular trainer bike for toddlers that has a unique trainer wheel free design.
It is well made, adjustable and able to be upgraded.
This is easily the best option out there to get your toddler comfortable on two wheels.
Little Tikes EasyScore Basketball Set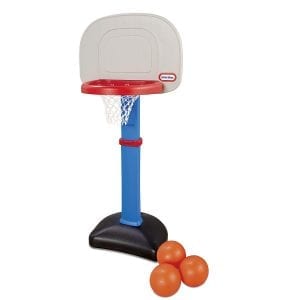 The Strider 12 Sport Balance Bike is an innovative training bike that allows your toddler to learn to ride a bike without training wheels. 
It features never flat no maintenance tires. 
This fully adjustable bike allows your youngster to enjoy the thrill of riding before they are even out of diapers!
The Little Tikes EasyScore Basketball Set features an oversized rim along with a toddler friendly sized mini basketball to ensure that your child experiences more goal shooting success.
You have to add sand to the base of the unit before use in order to stabilize it.
The hoop may become loose if your toddler is too rough with it.
The height of the Little Tikes EasyScore Basketball set is adjustable between 2.5 and 4.0 feet.
The base of the set can be filled with sand to provide a solid secure setting.
Your purchase comes with 3 mini sized basketballs.
The Little Tikes EasyScore Basketball set is a sturdy adjustable attractive set that comes in at a sharp price point.
If you're after a stand alone basketball set that can be used both indoor s and out, you've just found it.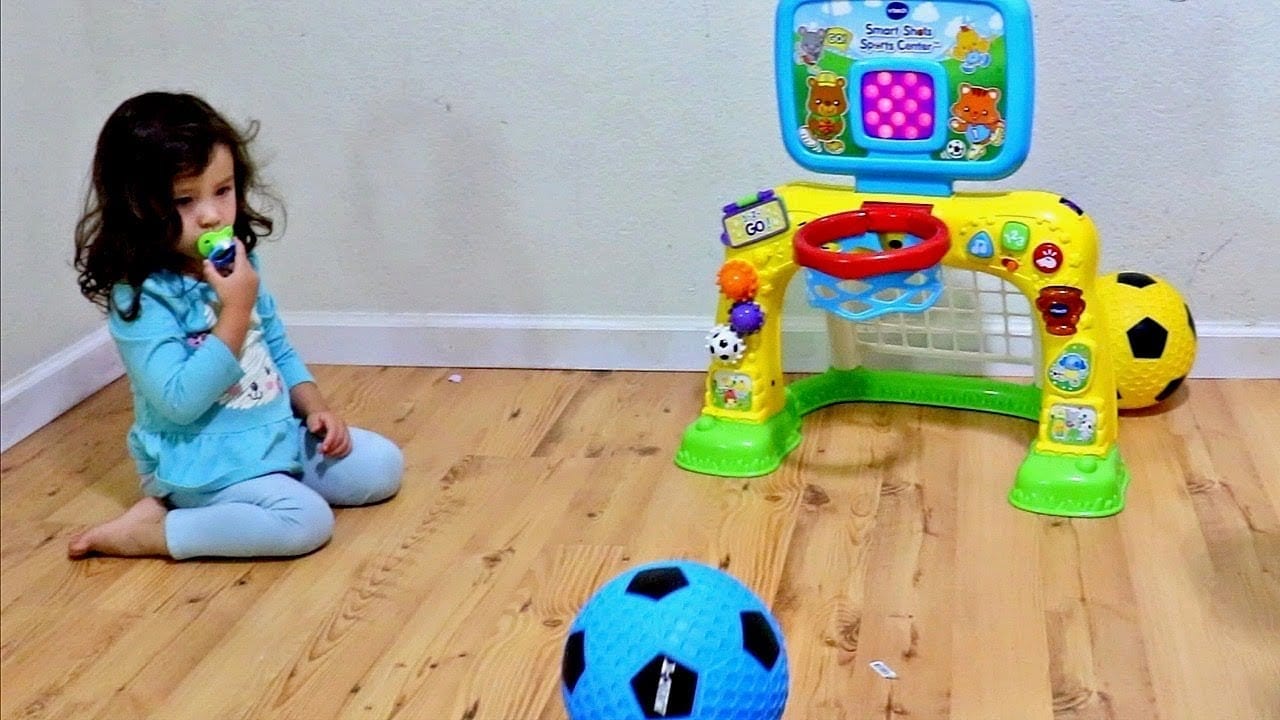 What sports can toddlers play?
From the age of three, you can introduce your toddler to such sports as soccer, tennis, basketball and baseball. 
However, the focus at this age should be on having fun as opposed to competition.
There should not be any winners or losers, nor any 'right' way of doing things. 
The last thing you want to do is to get the child frustrated or bored and turn them off to that sport for the rest of their life.
Another thing that you should not do with your toddler is to focus them exclusively on one particular sport. 
You may have ambitions for little Johnny to be the next Tiger Woods, but all you are likely to achieve is to get them sick of the sport very quickly. 
That's why it is far better to expose the child to a wide variety of sporting options and allow him to make his own choices as he ages.
Another danger that you run the risk of if you focus your toddler on just one sport is overuse injury. You child's bones and joints are still developing at this age. So, don't make them do repetitive actions day after day!
Pediatricians have noted that some parents are overcommitting their little children to sports teams in an effort to give them a competitive advantage as they age.
You do not want to fall into this trap. That's why you should allow your toddler time throughout the year when he or she is not enrolled in a sport or taking a class. 
According to Allston Stubbs, M.D., an orthopedist at Wake Forest University Baptist Medical Center, in Winston-Salem, NC, "Young kids need to rest their bodies, so remember to give them a season or two off every year."
Toddlers, that's kids between the ages of eighteen months and three years, are just beginning to establish their gross motor skills.
These include walking, running, hopping and skipping.
At this age they need a mixture of adult assistance and independent exploration to cement those skills. 
They should be given at least thirty minutes per day of physical activity. 
They still have short attention spans, so putting them into organized sports that have a lot of rules is probably not a good idea.
You should plan a mixture of organized and unorganized physical activities for your toddler.
Structured activities may include organized sports, gymnastics, swimming lessons and dance sessions.
Unstructured activities may be simply kicking a ball around out in the yard or taking your toddler to the playground.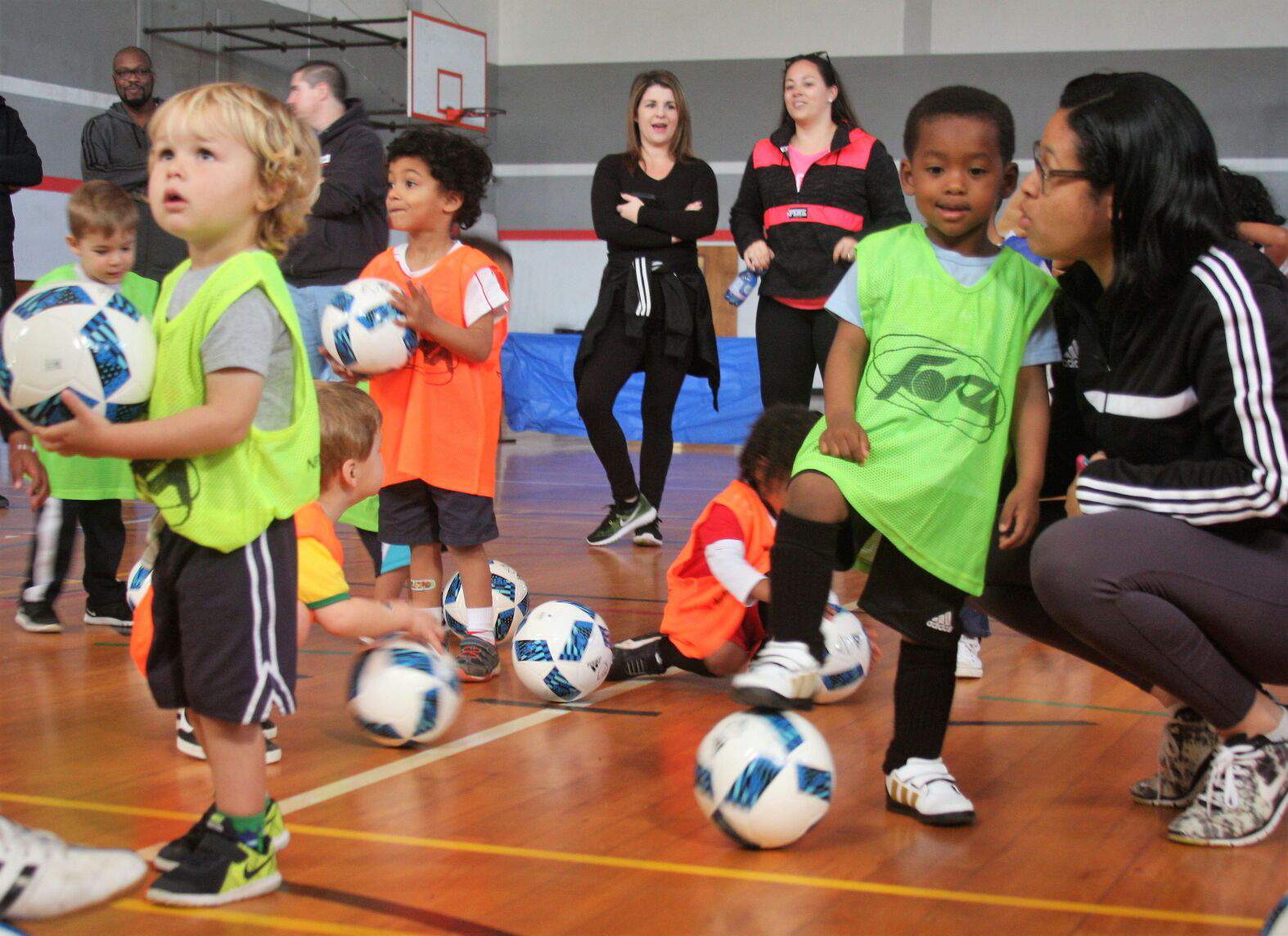 What are some good physical activities for a toddler to do?
Toddlers generally love to move to music. 
They teach movement patterns, balance and mobility while also encouraging creativity and imagination. 
If you are a parent who exercises to video tapes at home, allow your toddler to watch and join in as they please.
Take your toddler outside and play catch with them. Tag and hide and seek are other games that your toddler will enjoy.
Toddlers love such things as large, inflatable balls. 
They also enjoy going down to the playground where they are given free reign to crawl, leap, climb and push. In the summertime, most toddlers will enjoy splashing around in a pool.
Of course, you should always keep close scrutiny over your toddler when they are anywhere near water.
What is a good age for a child to start running?
By the age of three a toddler will be running around all day long.
Of course, structured running is different than just screaming around the house.
You really don't want to start a young person running formally until the age of five.
Younger than that and they may not understand the concept of running in a race.
However your three year should still be encouraged to run.
This can take many forms, including chasing the dog, playing tag and running around the playground.
A child who starts to show an interest in formal running can be introduced to a more structured routine at kindergarten.
You can enter them into a short race of no more than 400 meters.
Look for a running program that promotes fun and a love of movement rather than structured competition and technique.
From the age of eight, you can enter your child in the Junior Olympics.
At this age, most kids are capable of running 5 kilometer (3 miles).
When it comes to the ideal distance for your youngster to run, let the child be in control. Set small goals for them. These can revolve around distance, time or type of running (i.e. intervals, trail, etc). Parents should also run with their kids
Can a 2 year old kick a ball?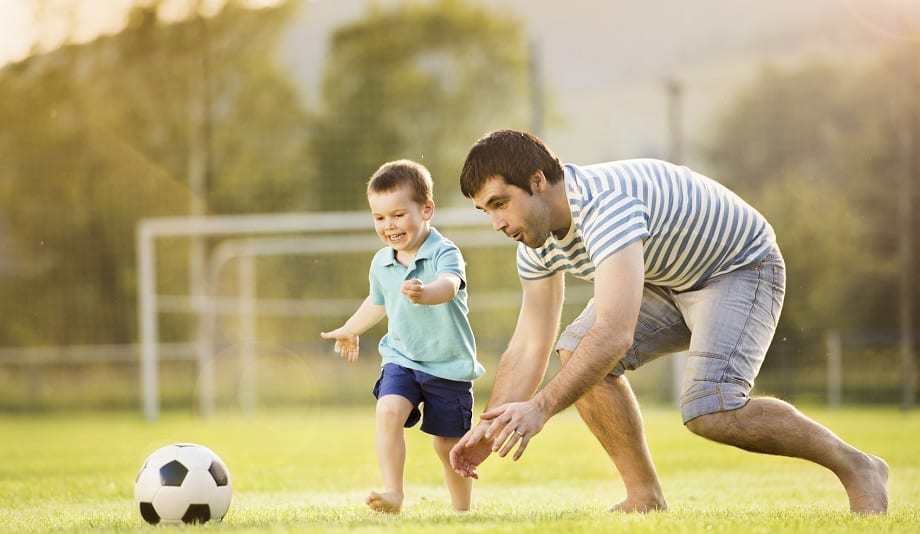 Yes, most two year will be able to kick  a ball. 
By eighteen months a child will usually have developed the balance and coordination required to be able to stand up, raise a leg and make contact with a ball. 
A couple of months later, he should be able to propel the ball forward by about three feet. 
Then, by the age of two, he will normally be able to aim the ball directly forward without it deviating by more than 20 degrees.
By the age of three, a child should be able to kick a ball six feet by way of a coordinated arm and leg movement. 
This will involve starting the action by drawing the foot back with a bent knee.
How do I get my kid into soccer?
When a child is around the age of three, you can introduce soccer to your child by playing at home in the backyard.
You can purchase a toddler soccer set to give them a little bit of structure and form without scaring your child.
Your toddler will be happy to play with just you at this stage. One-on-one play will give the child the opportunity to handle and control the ball.
Don't worry if the want to hog the ball – that's quite natural.
It is actually better for a toddler to play one on one than as a team member.
That's because it gives them more time to practice their ball skills.
What they need in order to develop their coordination and proprioceptive skills is repetition.
They can't do that when they are only touching the ball every few minutes.
Between the ages of five and seven, if your child requests to be put into a soccer team, and they have been playing casually for some time, then you can register them with your local soccer association.
If, however, they are completely new to the sport, you may be better off to sign them up for an introductory soccer program down at the local recreation center first.
Once they have passed through this program, let them decide if they want to progress to a soccer team.
At what age can a toddler throw a ball?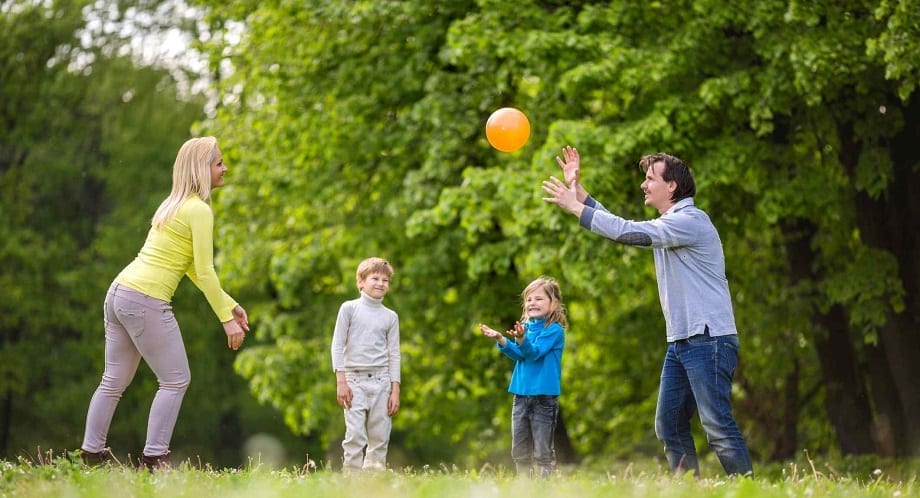 Throwing a ball requires whole body coordination.
Children will develop this ability between the ages of eighteen months and three years.
The throwing skill develops progressively. It begins with rolling the ball, then bouncing and rolling underhand.
The last step is to throw overhand.
Begin to develop the throwing skill by rolling ball to your child at around eighteen months of age.
You should use soft balls or spongy balls as you help your toddler learn to throw a ball.
Our analysis of the best toddler sports toys on the current market has revealed the products available for toddler soccer, toddler sports gear for basketball, cycling and baseball.
Our best overall toddler sports toy is the V-Tech Smart Shots Sports Center, which is a great 2-in-1 unit that features plenty of interactivity and engagement.
Having this sports center in your lounge is a great way to help your toddler develop their physical motor skills while also providing them with tons of fun and enjoyment.
Did you like the article? Please rate it: