There are endless health benefits to spending time in the great outdoors as children if studies have anything to say about it.
Moving away from TV screens, and out into nature and green spaces is absolutely crucial for a child's good health and development.
So if you would like to help your toddler get the best possible start in life, be proactive and pack up the entire family to hit the trails.
However, if you have young children and especially toddlers, the idea of a day hiking with the kids may not be as appealing to you when you think about all of the melodramatic meltdowns and whining.
Although hiking with toddlers or young children can definitely be a challenge, there are tips and tricks that you can use to achieve a great family hiking experience this summer.
Tips for hiking with toddlers
1. Select a family trail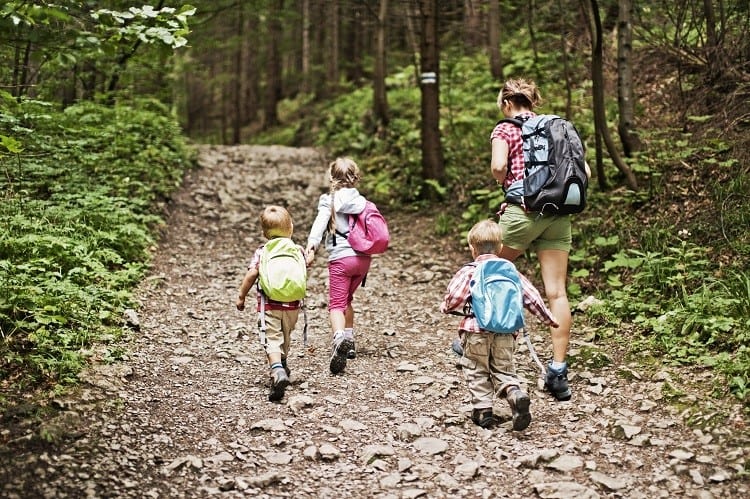 Choose the trail that is suitable for your child's age when you are looking at hiking options.
The goal is not to choose the most difficult or elusive trail out there. However, your expectation should be to take your kids along with you realistically.
Also, bear in mind that you need to save some of your energy for the return trip. So pick a trail that has cool features to keep your kids interested, rocks to scramble on, a creek to dip their feet in, and also a mini-summit so they can see the land from a birds-eye view.
They are lots of family-friendly trails out there; in fact, there are approximately 50,000 trails across the US alone.
2. Dress for success
When hiking, you definitely need to dress for success.
So as much as you'd like to adorn your little one in her Princess Sofia jelly shoes, you need to think a little more practically.
When hiking, in all types of terrain, you need to tog your little one up in shoes that are study and provide adequate support to make sure that the trip is comfortable and they cannot injure themselves.
There is a wide selection of shoes for active kids and kids going on hiking trails. There are light shoes, comfy shoes, as well as quick-drying shoes that are breathable but protects the toes.
3. Select the right time of day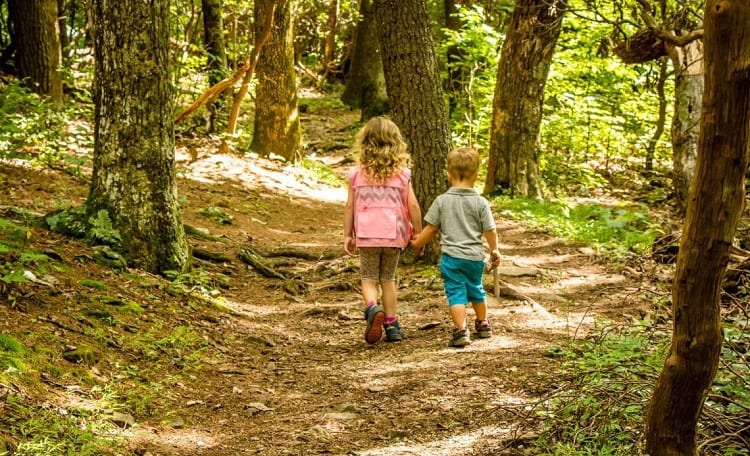 Choose a time of day when the weather is pleasant, and your kids are well-rested.
Ultimately, kids will be more optimistic if they feel energetic. The worst thing is to go hiking with sleepy and cranky kids.
So ensure that you work around nap time so that the kids are well-rested and looking forward to the hike. The best time is early morning as the sun isn't too hot, and energy levels are still high.
4. Protection from the sun
Even if it doesn't appear to be that hot outdoors, children tend to burn quite easily.
So lather on that sunscreen and of course always put a hat on them. Their attire should be lightweight, with long sleeve shirts that are also breathable and protects them from the sun.
Quick-drying clothing is also a very good idea and absolutely essential when traveling anywhere with kids.
5. Give your arms a rest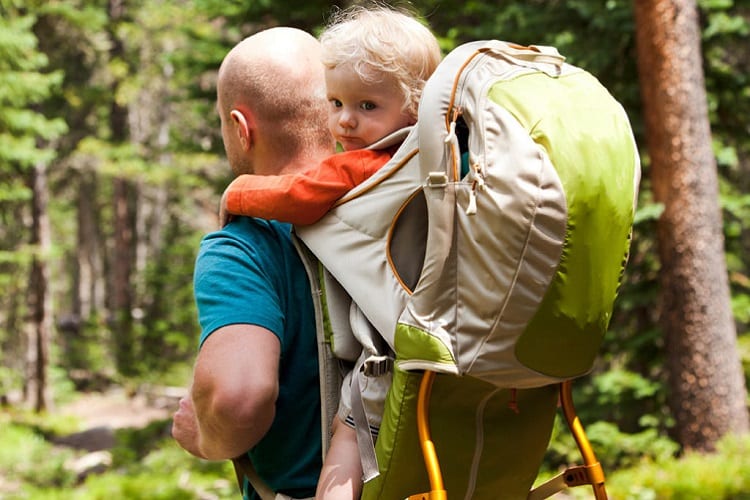 One thing that's absolutely fabulous for your biceps is carrying your kids from miles through the woods.
However, it is no doubt exhausting, to say the least. If you are anticipating hiking with your toddler in your arms, a baby hiking backpack is an absolute necessity.
They are lots to choose from; however, you need to choose one with a good review, is lightweight, has an adjustable harness, and preferably a five-point child safety system as well as lots of pockets for storing water and snacks for your little one.
6. Buy kid-sized gear
Kids love having their own gear, so if your toddler wants a small pack to carry some lightweight items such as snacks and a hoodie.
The weather can change quickly when hiking with kids, so dress them in layers and also carry a warm jacket in case the temperature suddenly drops.
Windbreakers and fleece jackets are an absolute essential when taking your little one hiking. While it's good to be well prepared for anything, don't try and take the whole house along with you.
So to avoid feeling like a pack mule, carry essentials only, and pack light.
Your little one may not be impressed, but this means leaving the stuffed animals at home.
7. Snacks and water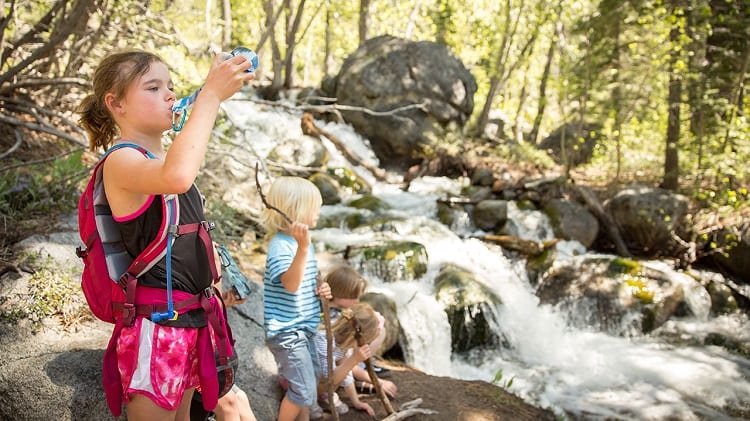 Before setting out on your journey, get your kids to help with the snacks.
Healthy snacks such as raisins, pretzels, goldfish crackers, nuts, and some M&Ms for a bit of fun are all good choices when hiking.
Healthy snacks such as granola bars, apples as well as homemade chocolate protein balls are some of the best choices that your kids will love and will give you an energy boost.
A few emergency lollipops are also not a bad idea to motivate your kids when they are whining.
8. Games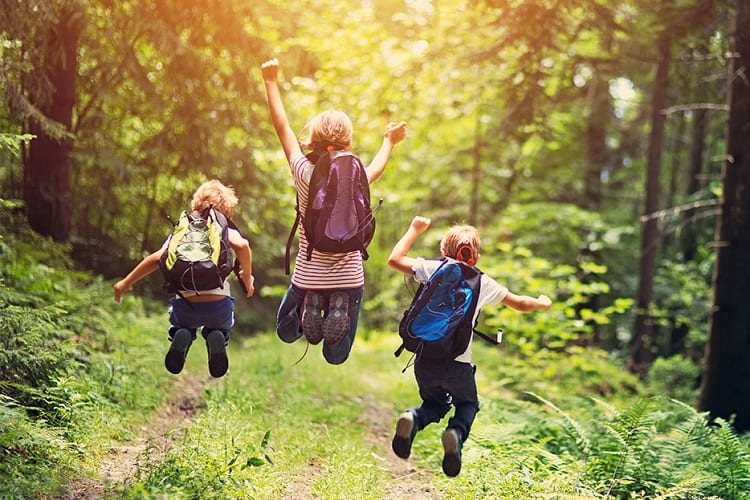 If there's one thing that kids love, that's playing games.
So why not turn the hike into an epic nature scavenger hunt. Get some ideas online for a nature scavenger hunt, and you can print out a list of things that are naturally found in the outdoors for them to gather.
You can use anything from pinecones to dandelions on the list and attach it to a small gift bag so that your kids can collect the listed items.
Include a pencil or crayons so they can check off the items that they have already found.
9. First aid kit
In the event of any accidents or mishaps, it's absolutely crucial that you have first aid items on hand.
There are even hiking first aid kits that you can purchase from various retailers.
Items such as adhesive bandages and antiseptic towelettes are essential when taking the kids on a hiking trail.
10. Encourage curiosity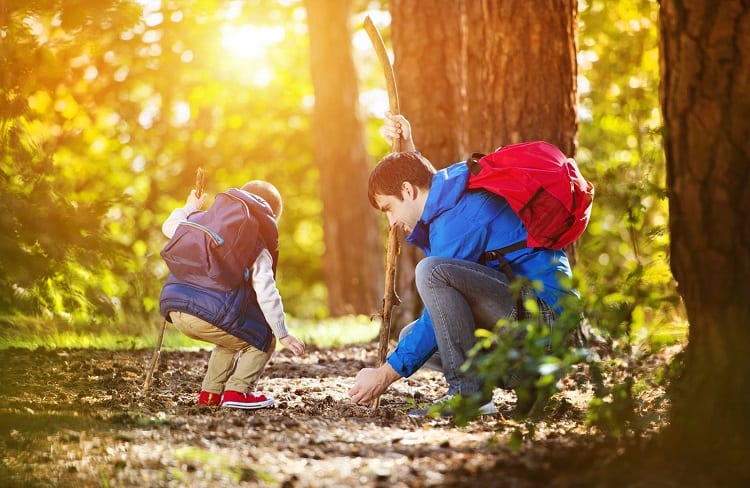 Encourage your child's natural curiosity by giving them kid-sized binoculars, a magnifying glass, a small container, or a journal to record things that they may find.
Also, motivate them to make observations by using all of their five senses.
Nature apps are a great help when it comes to helping kids identify birds, butterflies, insects, and animals.
11. Rewards
Rewarding your kids for a great job done is one of the best ways to motivate them and get them involved.
Hiking is meant to be a fun family activity, so by encouraging them, motivating them and praising them for getting things right, you'll be sure to avoid post traumatic hiking disorder and ensure that your kids always tag along on future family hiking trails.
Toddlers hiking boots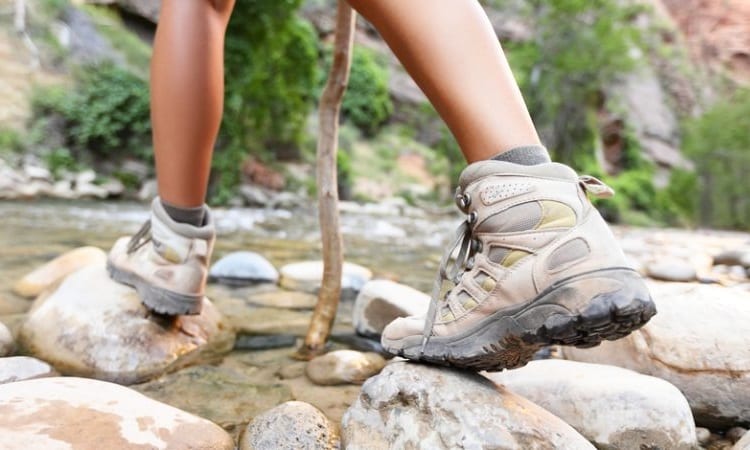 By taking your kids into the great outdoors, you're jumpstarting a lifelong relationship with nature.
Not only does hiking with your children emove them from the constant stream of devices and screens, but it also introduces them to the thrill and excitement of the great outdoors.
Kids get to experience the wonders of wildlife, wrap their arms around a tree that is larger than their body and take in the endless expense of a vista.
Additionally, it's also quite a healthy habit to instill in them.
Hiking is a form of exercise that improves not only your physical but mental well-being and will also boost self-confidence in your kids. It's also one of the best ways to create lasting memories that will bring the family together for generations.
However, in order to instill a love for hiking in your kids, you need to make their first hiking experiences the very best so that they have good memories of going on hiking trails with the family. Ultimately it all starts with comfort in the feet.
Hiking shoes are the most important piece of gear that you need since your legs are going to do all of the walking.
So comfortable hiking footwear will ensure that your kids do not suffer from pain, strained tendons, blisters, and other unpleasant conditions in the feet that can otherwise put a damper on a beautiful outdoor experience.
So here are a few ways to ensure that you are getting the best toddler hiking boots for your kids.
Toddlers hiking boots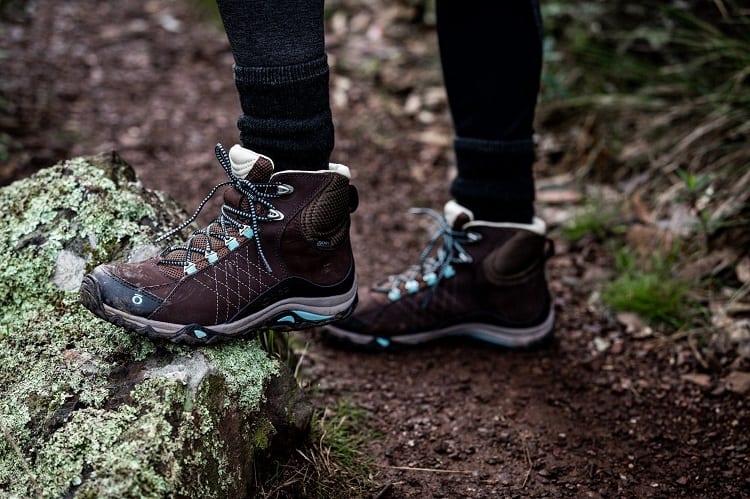 Ensure they are lightweight: Common sense dictates that heavy shoes weigh you down quicker. So every step that your child takes means moving those shoes, and the repetitive motion of walking catches up. So low-cut and lightweight shoes are recommended instead of heavier ones with ankle support.
Shop clearance sales: This is one of the best ways to get really good bargains. There are lots of retail stores that specifically stock toddler hiking boots and have amazing clearance sales. All you need to do is make sure that you have your child's size, and you can pick up a pair of hiking boots at half the price that it normally goes for.
Let your kids walk around in them: Allowing your kids to walk or even run it out in the hiking boots while you're still in the store is a great way for them to get a feeling of whether they are going to be comfortable in them or not. So lots of stores have a policy that allows kids to run around, especially since it is hiking boots, and your kid's comfort is the main factor.
Good traction: Ensure that you buy hiking boots that have good traction. So it needs to have enough tread so that your kids don't slip and slide over the trails.
Laces or Velcro: This ultimately comes down to a matter of preference, either yours or your kids. While they are young, it's important to have shoes with bungee laces as this doesn't quickly untangle, and you won't have to constantly re-tie them. Once they get older, it once again becomes a matter of personal preference.
Socks: Socks are just as important as shoes. In fact, you can find a good pair of socks specifically made for hiking for your little one from various retailers. Socks should be lightweight with a little bit of cushioning that's perfect for your kids hitting the miles on the hiking trails.
Toddlers hiking clothing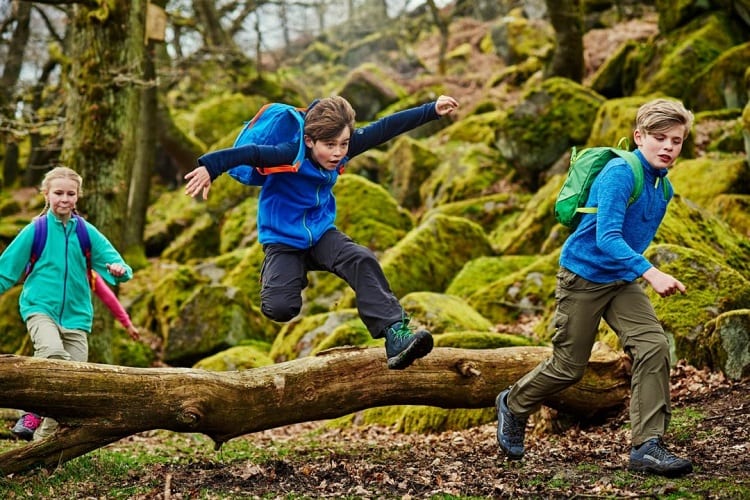 While you can wear just about anything when hiking or camping and the same goes for your little one, having somewhat technical clothing for your kids makes a lot of difference.
Your little one needs to be comfortable so they can go about the trail like little trekkers and deal with the extremes in weather conditions and ultimately have a great overall experience.
Some of the must-have hiking clothing items for kids include:
Sun hats: Sun hats should cover their faces and necks, pack up well, and also dry quickly. Sun hats with the strap are great to keep on your toddler at all times.
Trekking pants: Kids love to be in the shorts all of the time and especially in extremely hot weather. Light pants will protect your legs much better, and zip-off pants are great because you can switch to shorts quickly and easily. This is especially when hiking through bushes and trees.
Long sleeve sun shirt: Long sleeve sun shirts are absolutely essential for toddlers who are hiking since it protects them from harmful UV rays, and you don't have to apply sunscreen constantly.
Insect repellent clothes: Not many people are aware of this, but there are specific clothing that is marketed to keep pests away. This will significantly help in the battle against bug bites.
Wool socks: In order for your kids to avoid blisters and sore feet, especially when they get wet, cotton, lightweight wool socks are the best choice.
How long of the hike should you do?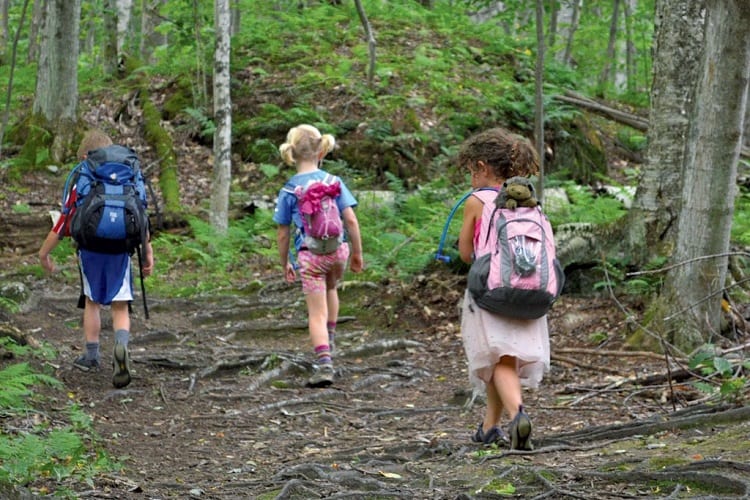 Obviously, the younger the toddler or child, the fewer miles they will be able to go. Kids of school-going age can easily go 5 miles just as long as they are hydrated, have snacks as well as take regular breaks.
However, for kids aged up to three years old, it is recommended that you stick to hikes less than 2 miles.
Kids age 4-7, surprisingly, are resilient and capable at this age and can easily hike up to 6 miles a day.
Children aged 18 and over can hike more than 6 miles a day. In fact, they can hike anywhere between 6 to 10 mounts.
Ultimately, the most important thing as a parent is to be aware of your child's limits and don't push them too far. Be patient with them, ensure that they have comfortable shoes and hiking gear and that they are well hydrated and have snacks on hand as often as they need it.