All children need fun and outdoor games at some point and time.
It helps them to release energy, and they have a blast in the process. Additionally, there are obvious health benefits for children who play outside.
These health benefits, unfortunately, are not enjoyed by doing indoor activities.
Children get to run around and yell while parents and nannies also get to enjoy and relive the children in them by playing outdoor games. Getting lots of outdoor activity also prepares kids for bedtime.
Outdoor activities can be played at any time, at parties, or just having a good time with family and friends.
There are lots of creative outdoor games that kids can play.
So let's take a look at some of the most creative and exciting outdoor games for children of all ages.
1. Kickin' Croquet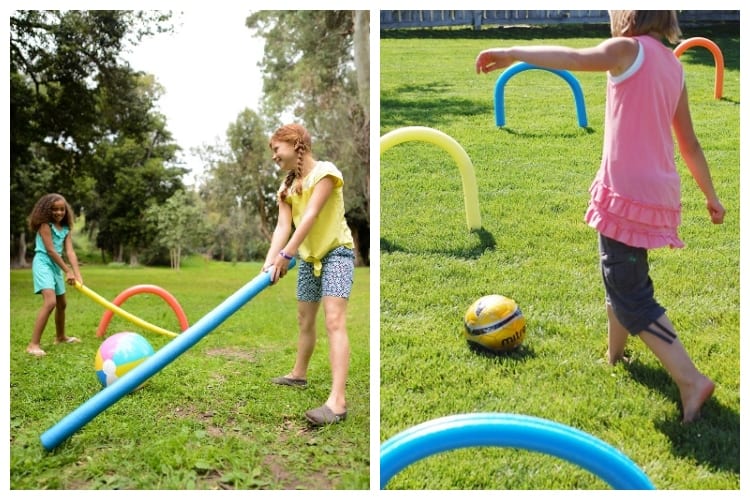 You can play this game by creating a croquet post with pool noodles and hula hoops.
Then the kids can kick balls through the wickets. You can begin by cutting up different colored pool noodles and ensure that they are long enough to create arches to kick the ball through.
You can really get creative and design the croquet posts as you see fit.
One exciting way to play this game, especially for toddlers, is to call out the colors and have them kick it to the corresponding pool noodles that you call out.
2. Ice block treasure hunt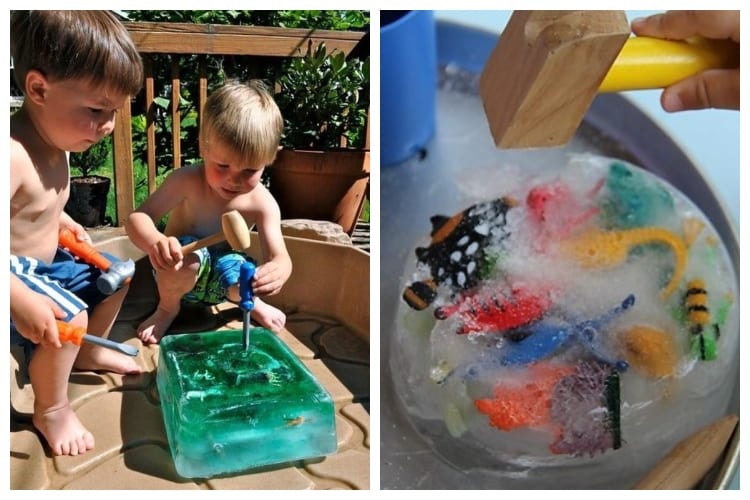 This is one of those games for truly hot or humid days.
Turn little toys and colored ice cubes into a huge block of ice. Take a large container and fill it with an inch of water, then add four or five small toys and place it in the freezer until it is solid.
Once it is frozen, add more water and more toys and fears again. Repeat this process until the entire container is filled with tiny toys and frozen ice. It will take approximately a day or two to get the whole container full, so take your time with it.
Leave it in the freezer until your kids are ready to play with them. Your kids can use tools such as toy screwdrivers, paintbrushes, and spoons to excavate the treasures.
This is probably one of the most exciting games for toddlers and preschoolers.
3. Colors and shapes sidewalk game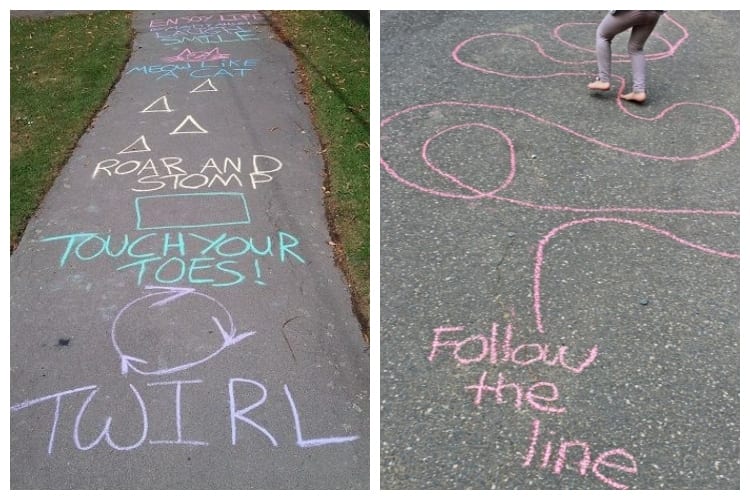 This game allows toddlers to practice motor skills and learn colors and shapes at the same time.
You should draw different chalk line shapes on the sidewalk and driveway in all kinds of colors in a clipped pattern. Then kids should go from one into the other by stepping on the appropriate color or shape as you call them out.
Points should be allocated for each correct color or shape that the child steps on.
Ultimately, this game is fun since everyone gets to take turns and if they have a chance to learn shapes and colors.
4. Monster bean bag toss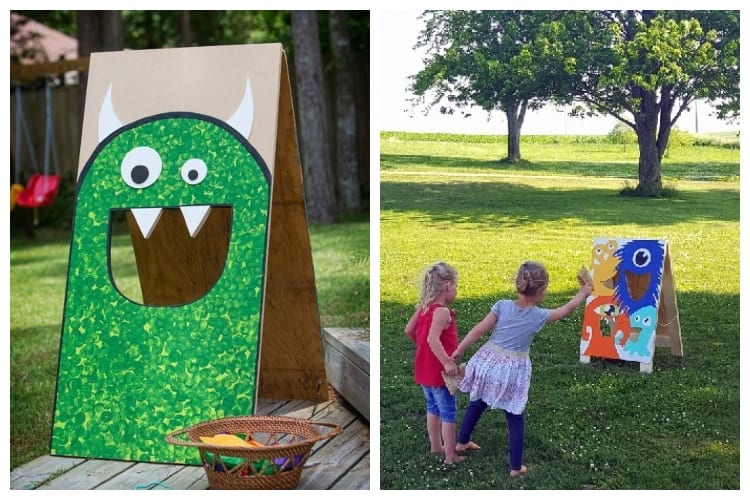 You can use cardboard to make this monster bean bag toss game, and it can also double as fun photo booths.
Create monsters and join them into large pieces of cardboard, propping them up against the wall or making them lean slightly on the grass.
You can use a long piece of wood to do this and assist the cardboard in staying up. Kids can then take turns to throw beanbags through the monster's mouth.
5. Backyard mud run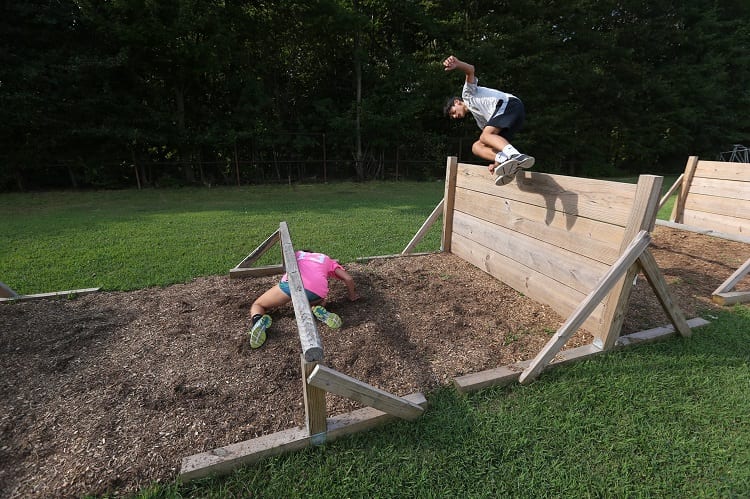 Some kids are extremely active and have a whole lot of energy that they need to release. Making kids run an obstacle course is one of the best ideas to get rid of pent up energy.
You can create an obstacle course using things such as hoops and tires, boxes, and hale bales as well as string. In fact, you can use just about anything that you have around.
Once you complete the obstacle course, have the kids race through them and use a stopwatch to time them.
You can also add a mud bath or kiddies pool if you want to make things extra fun.
So the kids who make it to the obstacle course in the shortest amount of time can be awarded prizes such as party bags and other things that kids love.
6. Pool noodle ring toss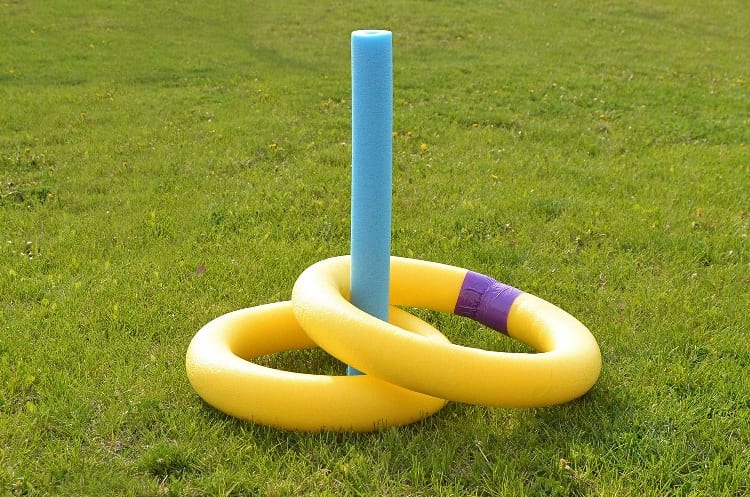 Pool noodle ring toss is also a great game for kids of all ages.
Cut one pool noodle in half and create two gold sticks. Then decide on the distance that needs to be between the two goals.
The age of the kids playing the game should be taken into consideration when determining this. Then you can use garden (or even just pieces of wood) stakes to secure the noodles in the ground. Do not use sharp ended metal or plastic stakes.
You can also take one of your leftover noodles and create a circle with it, and duct tape the ends together. Do the same with the remaining noodle kids can then take the succulent noodles and try and throw it on the gold sticks.
These games are a little bit more involved and therefore are suitable for kids aged six and over.
7. Rainbow tag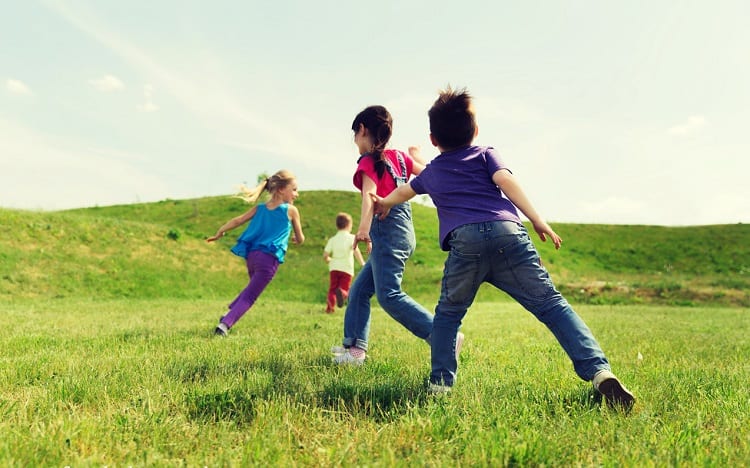 This game is a combination of hide and seek crossed with capture the flag.
It can be played in the park or in your own backyard. So you need to gather any number flags that are each a different color and then match face paint sticks and keep them close by.
Every time a child finds a different colored flag, they put a line of that color paint on their face.
And every time a child gets tagged, another designated player will wipe that color of his or her face.
8. Yard twister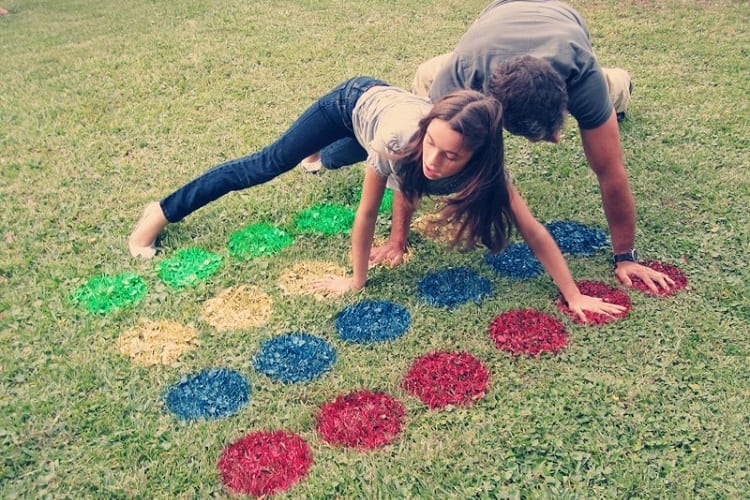 This one is a favorite.
Yard twister is simple, yet fun to play and helps get the family all tangled up. You can make your twister as small or huge as you want.
Since you have the freedom of playing outdoors, all you need to do is spray paint the circles directly onto the grass. We recommend using spray chalk that will not damage the lawn.
The good news is that you can keep playing until the next time you mow. This is a great game for kid's birthday parties, play dates, and family activities in general.
9. Recycled bottle bowling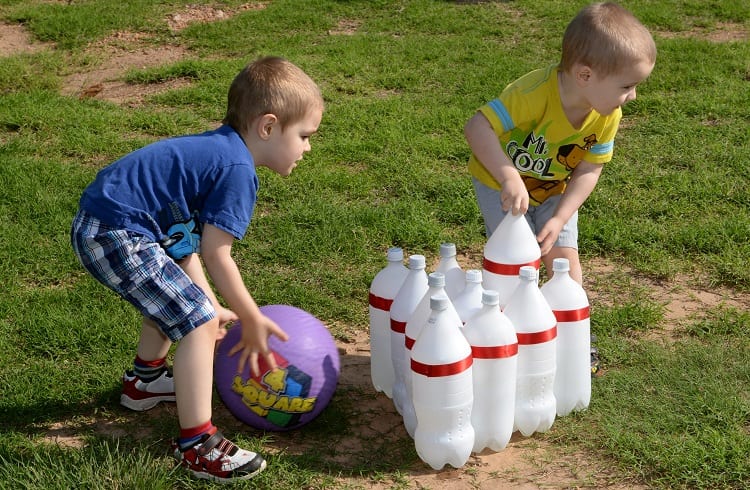 You can turn your backyard into a bowling alley using recycled bottles.
All you need to do is add a little paint (or tape) to some plastic bottles, and as soon as they dry off, you have an easy, do-it-yourself bowling game. To engage kids imagination have them paint and make the bottles into cool looking pins.
This is a great way to teach kids about recycling something that could have been thrown away and therefore teaching them how to lessen their carbon footprint on the environment.
If you like to play this game at night, just add glow sticks and make it even more fun.
10. Water balloon pinata
Perhaps the only step to this game is to fill the water balloons with water and then hang them up. We recommend using eco-friendly, bio-degradable, self-filling water balloons.
Kids have a lot of fun by breaking them. There should be a timer set so you can see who breaks the most amount of balloons in the shortest amount of time while being blindfolded.
Ultimately, the best thing about this game is that you can make your own rules and play it over and over again until your balloons run out.
11. Water gunfights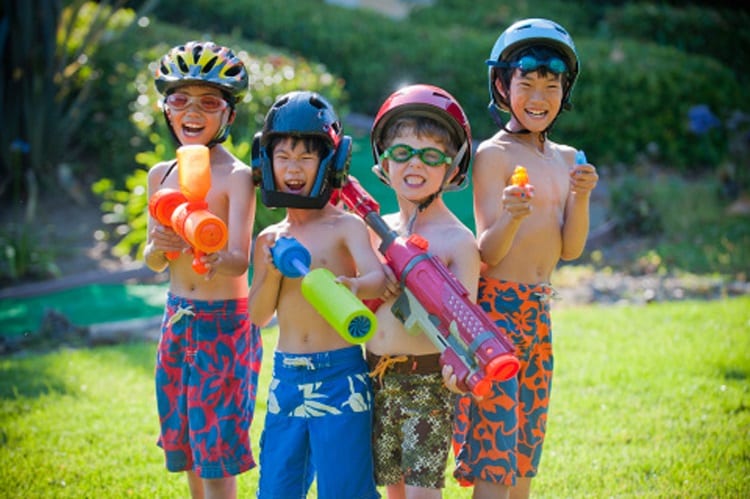 This is a great game for an extra-long day.
All it requires is getting the kids into their bathing costumes and chasing each other with water guns.
Not only are they going to cool off and have fun in the process, but they will inevitably be watering your backyard in the process. Tip, buying water guns in a pack will save you money.
So it's a win-win situation for parents and kids.
12. Nature scavenger hunt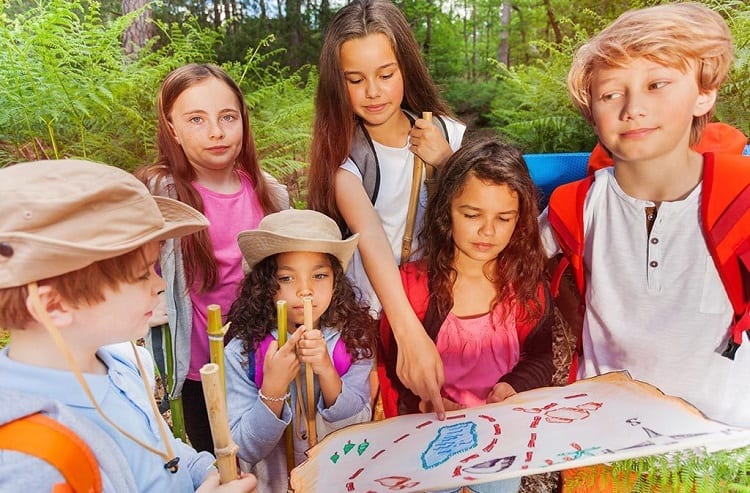 The goal of this game is for kids to complete the hunt by finding all the items of interest.
The fun part is that your list can be custom-made. So you get to decide what type of items to put on the list and then make copies for scavenger hunters.
The point of the nature scavenger hunt is that you can use natural items on the list, such as the surroundings, seeds, and litter, and so on. Make it competitive by finding the largest leaf, the most unusual seed, a rock shaped like a heart etc.
Each player should have paper bags for collecting items on the list, and they can even compete in separate teams or as individuals, whichever you see fit.
13. Ping pong toss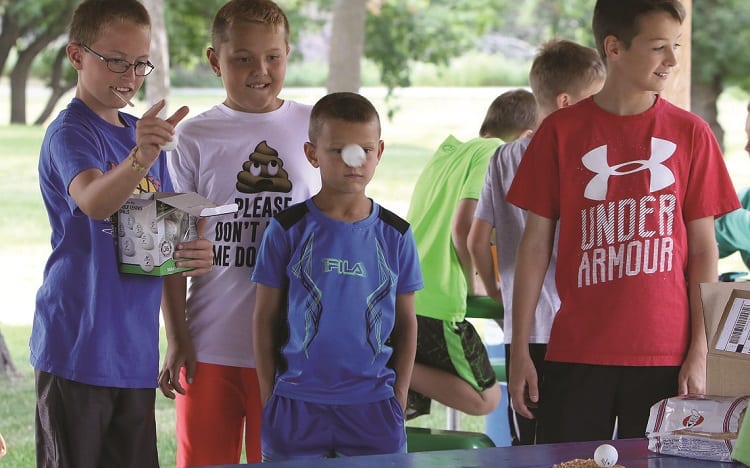 To play this game, you'll need to fill plastic cups halfway with water and place them in five separate drawers.
Each cup should be labeled with a score, and the cups closest to the kids should be allocated one point as opposed to cups that are farther away, which should be allocated the highest points.
You also need a lot of ping-pong balls, and kids should take turns tossing the balls into the cups. Every player gets 30 seconds to toss as many balls as they think they can.
The player with the highest score is ultimately the winner.
14. Frozen t-shirt race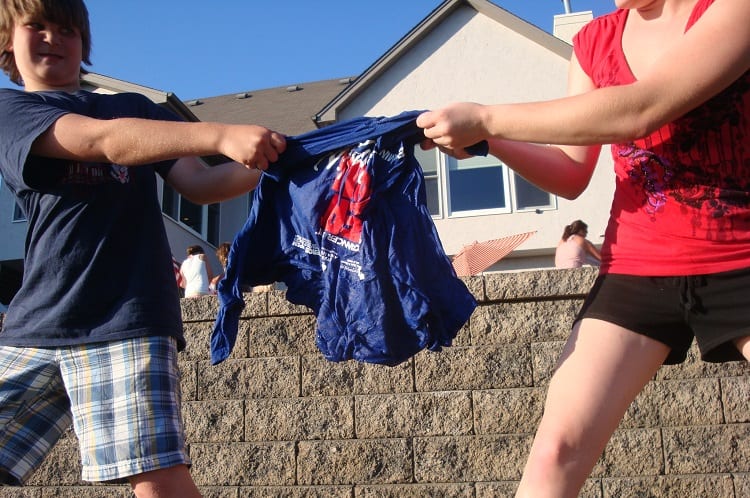 This game is really easy to set up and tons of fun to play.
You need to start by soaking a bunch of T-shirts in water and make sure that you have one per player.
Thereafter, squash them up and put them in a plastic bag. The bag should be placed in the freezer overnight.
Ultimately the point of this is to see who can run, unfold and put the T-shirt on in the quickest amount of time.
It may sound like a simple thing to do; however, it does take a good few couple of minutes for players to succeed in getting the T-shirt on.
It's a great game to play on those really hot summer days.
15. Budget sandbox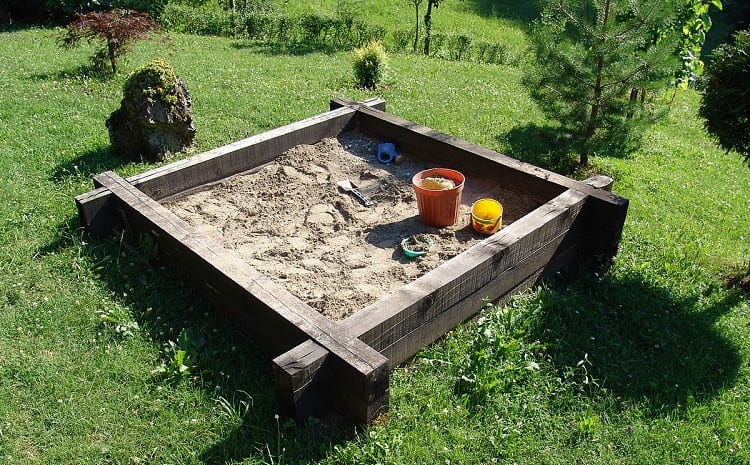 When it comes to kids getting creative, it doesn't get more creative than playing with sand.
Children can make sandcastles and dig or even make their own sand games. So get a storage box out and put the beach into your backyard. You can make your own or buy a pre-made sandbox (some even come with sun cover, bench seats etc.).
Sandbox is fun and also encourages sensory play, which can be done absolutely anywhere.
16. Soap boat race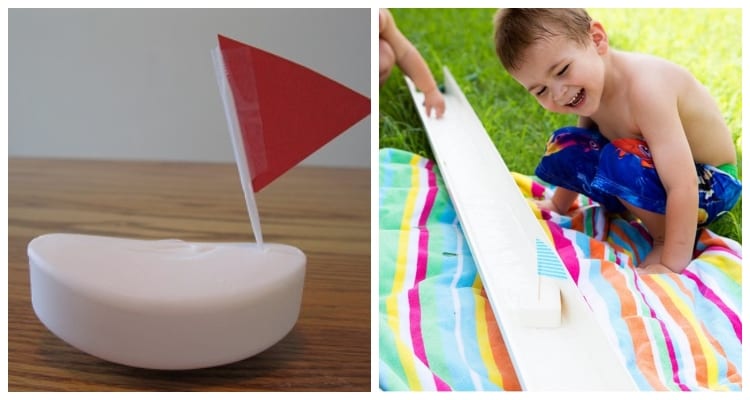 For this game, you'll need to grab a few bars of soap and make the sails with some toothpicks and fabric. The "race track" can be a rain gutter from your local home depot or lowes (make sure it does not have sharp edges that could hurt).
Then you race. Kids can time their race for individual speeds or compete against each other. This is actually a fun way to sneak soap and water into kids that don't really like having a bath.
They will have so much fun; they'll be squeaky clean before you know it.