You might think a child has to be a certain age in order to ride a bike.
Maybe you were only learning to pedal when you were five or six. But toddlers can learn how to ride by starting with a tricycle, or "trike" as it's usually called.
Material
Steel frame and plastic accessories
Best For
Ages 10 months to 3 years
What are the benefits of tricycles for kids?
Your child will learn valuable skills from riding a trike, such as balance, coordination of the upper and lower body, and muscle strength. Plus, they'll also have fun and become interested in bikes. To get started, you'll need to find out what the best trike for your toddler is, and where to find it. We've got you covered!
Now that we've looked at the specs of five different types of trikes, let's look at their benefits, starting with the best one you should purchase if you want to introduce your toddler to the world of triking!
Our Recommendations For The Best Toddler Tricycle For 2020
Best Overall Winner: Radio Flyer 4-in-1 Stroll 'N Trike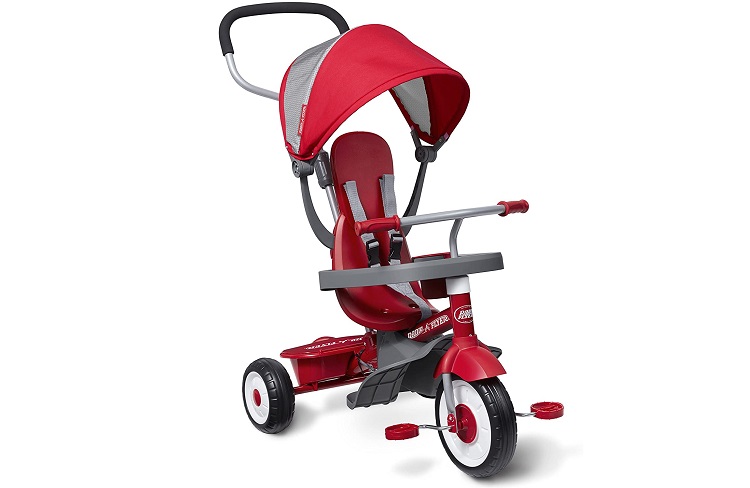 This 4-in-1 Stroll 'N Trike gives children four different ways to ride it.
As kids grow out of infancy, they gain coordination and strength that's required to pedal, so giving them a trike is a wonderful way to encourage them to further develop these skills.
Let's look at this Stroll 'N Trike from Radio Flyer a bit closer.
Benefits
This trike is safe for outdoor use, as it contains a three-point harness to keep kids safe and an adjustable canopy to block out harmful UV rays. Of course, you'll always be there to guide and supervise your toddler, but it sure helps to have these extras included in a tricycle.

You can adjust the trike as your child gets older by removing a steering push handle that's included for parents. It's also got a removable footrest that can be taken away when your child gets older and doesn't need it.

This gives children four different ways to use the trike depending on their age. They can start by using it as an infant trike, fit with canopy and parent steering, and then progress to a steering trike and finally a classic trike.

The push handles for parents are strong and easy to use.
Extra Features
This trike contains a removable wrap-around tray with a cup holder, so your toddler can have their favorite juice on hand while triking!
It's very easy to install, which is a bonus as you don't want to waste time trying to assemble a tricycle that can be put to better use having fun with your kid.
Drawbacks
Some people who have purchased this for their kids have stated that the seat is quite slippery, making it difficult for a child to be able to sit straight. You might need to ensure the seat has better grip, such as by covering it with material.
Buying Guide
This Stroll 'N Trike costs $101.87. It's the best tricycle for 2 year old kids, while being value for money for you as a parent because your children will be able to use it for many years.
Runner Up: smarTrike Zoom Toddler Tricycle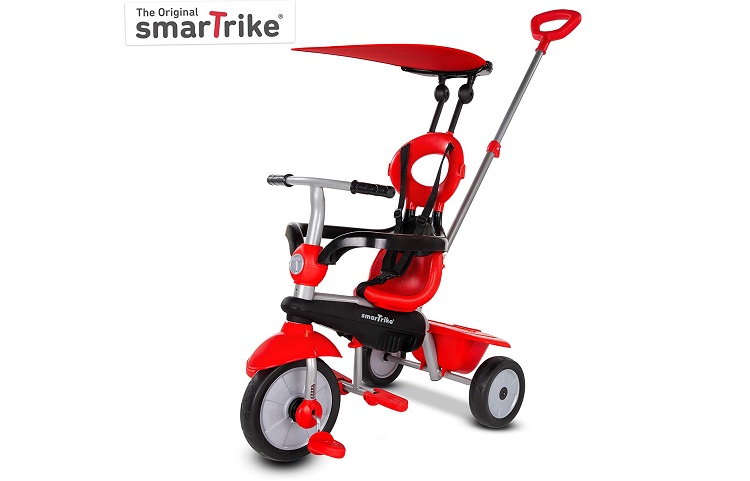 This toddler tricycle enables your child to progress from a push tricycle to a full toddler tricycle.
As your child learns to ride on his or her own, they will learn valuable skills, such as when it comes to balance, motor skills, as well as self-confidence.
Benefits
You can safely and easily steer the tricycle when teaching your child how to ride it, thanks to the tricycle's built-in touch steering technology.

This trike is focused on safety for your child as it comes with a safety bar, a patented shock absorber, and a three-point harness.

It comes with two-stage pedalling so you can let your children practice pedalling while you steer and then let them pedal on their own when they become more comfortable. It's the perfect tricycle to help them learn.
Extra Features
This tricycle comes with a sun canopy to protect your child against the harsh elements.

To make riding even more fun for your kid, it comes with a toy basket they can fill with their favorite things, such as toys and snacks.

This trike has a seat with a high back that supports your baby's delicate back until your child is capable of sitting up straight on their own.
Drawbacks
Some people who have purchased this product have stated that they battled to control the steering, which seems to be quite a common complaint. Always be sure to test out a tricycle in a safe, open area where there are no cars or other dangers. It's also a good idea to use it on smooth terrain.
Buying Guide
This best toddler tricycle costs around $70 on Amazon, so it's quite a bit less expensive than the previous trike we featured while still having some excellent features both you and your kids will love.
Alternative 1: Little Tikes Perfect Fit 4-in-1 Trike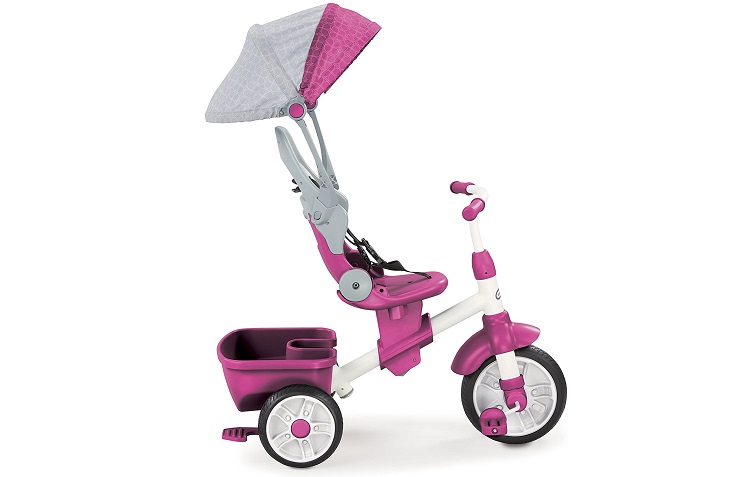 This tricycle is an excellent choice because it can be used by children up to the age of five. Let's check out its benefits and features that make it the best trike for toddler ages.
Benefits
The tricycle comes with a removable waist bar and push bar that you can take away when your child becomes more comfortable and confident. This helps them to smoothly transition towards independent steering.

With just the flick of a switch, you can adjust the seat.

To protect your kid's feet, the trike has a full-foot platform.
Extra Features
As we've already seen in these tricycle reviews, many trikes come with accessories. This one has a bottle holder and a storage bucket, as well as a canopy to provide protection against the elements.
There are even some features for parents! These include a tray where you can store your cell phone, snacks, and drinks.
Drawbacks
Some parents who've purchased this tricycle have reported that it's sometimes difficult to adjust the seat to ensure that the child's feet can reach the pedals.
Others have reported that the trike is difficult to assemble. If you're a pro at DIY, this shouldn't be a problem for you!
Buying Guide
This trike costs around $100 on Amazon. It's a cost-effective product with many benefits and features to make your kid learn valuable skills such as coordination.
What makes it even more value for money is that it can last your kids for many years as they won't grow out of it too quickly.
Alternative 2: Schwinn Roadster Kids Tricycle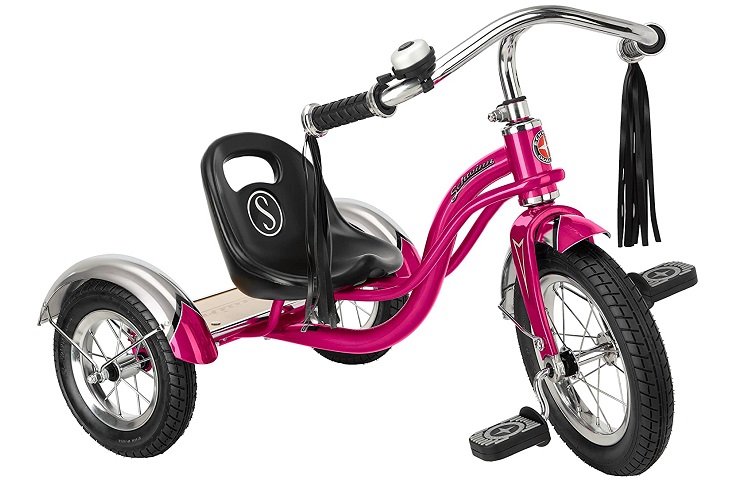 The first thing that will be appealing to your kids about this tricycle is how bright and beautiful its color is!
You can choose from a variety of colors, such as teal, pink, orange, red, and black. But it's more than just an attractive-looking tricycle. Here's why.
Benefits
What sets it apart from other tricycles on the market is that it's designed to have a retro appearance.
It also has a low center of gravity, which helps younger and smaller kids to ride it more comfortably.
It's got an adjustable seat that moves forwards and backwards, so your child will be able to use it for many years.
Extra Features
The tricycle comes with a bell and tassels included, to make using a tricycle so much more fun.
Here's something parents will like: the tricycle comes with a lifetime warranty for as long as you own it.
Drawbacks
Some parents have reported that this tricycle's handlebars need to be tightened regularly.

The hubs also don't have bearings, which is said to produce a creaking noise.
Buying Guide
This classic tricycle costs around $150 when purchased on Amazon.
Although there have been some complaints when it comes to its construction, overall this bike is an appealing one for your kids with some great features to offer.
Alternative 3: Fisher-Price Thomas and Friends Tough Trike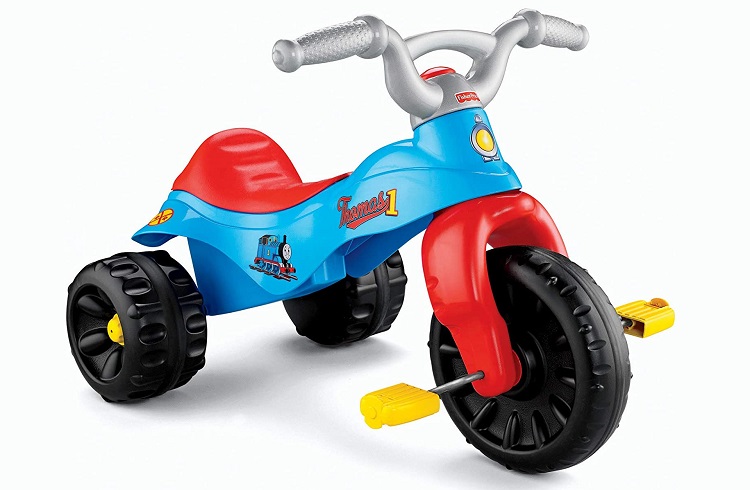 This tricycle is all about making your child feel comfortable and enjoy their trike in the best way possible.
In addition, it's not going to burn a hole in your pocket, so you'll love it too. Let's take a look at its benefits.
Benefits
This tricycle comes with a stable wheel base.
It's got easy-to-grip handles that are safe for small hands.
It's also got wide pedals so that your kids don't have to worry about slipping off.
One of the most exciting benefits of using this tricycle is that it contains strong tires that have rugged treads. This makes them perfect for a variety of different terrains.
Extra Features
The seat can be raised to reveal a secret storage area, in which children can store their beloved toys.
Drawbacks
Although the wheels are rugged, they are made of plastic and therefore don't have as much grip as you might've liked. Therefore, always be cautious when letting your kids use their tricycle over more rugged terrain.
Some people have reported that the tricycle is a bit too big for a two-year-old child, therefore this is probably a better purchase if your child is at least three years old.
Buying Guide
This tricycle costs around $40, so it's really budget-friendly while giving your kids everything they need to get started in the fantastic world of cycling.
Toddler Tricycles FAQ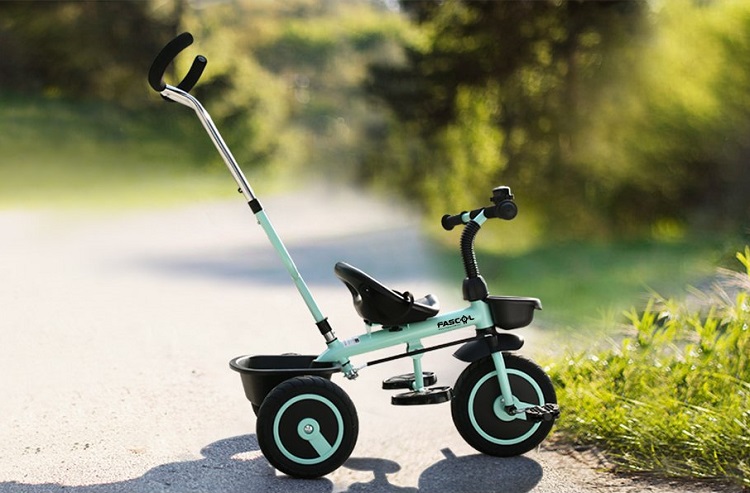 Now that we've looked at cool tricycles for toddlers, let's answer some frequently asked questions related to tricycles.
How do you measure a bike for a toddler?
There are some really easy ways in which you can measure a bike for your toddler and this is important to ensure that the bike is the right size for your kid so that they can control it easily and feel comfortable when riding on it.
First, you need to measure your child's height. You can do this easily by letting them stand with their back against the wall and then placing a ruler along the top of their head against the wall.
Make a mark on the wall where the ruler comes into contact with it. Then, let your child step away from the wall so you can use a measuring tape to measure from the spot on the wall to the floor.
You should also measure your kid's inseam as this will ensure he or she will be able to reach the ground when on the bike, thus helping them to balance.
To measure their inseam, use a measuring tape to measure from their crotch to the floor. If your child's inseam measurement is 18 inches and they have a height of up to 40 inches, they will need a tricycle that has 12-inch wheels.
On the other hand, children who are taller than 40 inches will need a bike that has 16-inch wheels.
That should give you a bit of a better guide when shopping for a tricycle for your kid.
What age can toddlers ride a tricycle?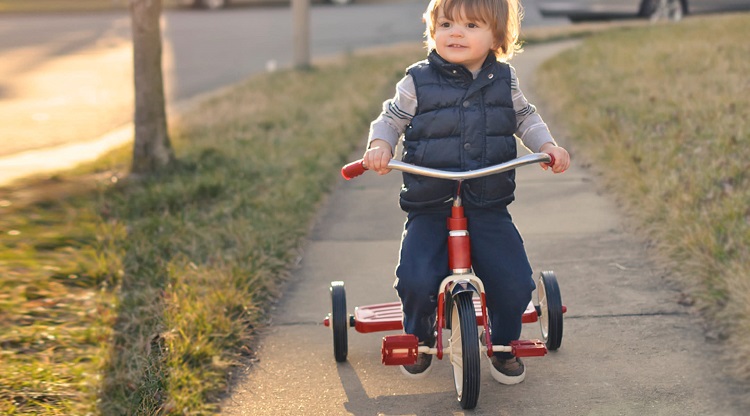 As we have seen from the tricycle reviews in this buying guide, there are many tricycles on the market that cater to really young kids, sometimes even babies who are not even a year old.
Of course, those trikes are meant to be steered by parents until the children grow a bit older so that they can control their trikes themselves.
That said, some children are able to use the pedals of a tricycle when they are between the ages of one and 3. Most children will be able to properly ride trikes when they're three and older.
Letting your child ride a trike from a very young age is fantastic as it can help them to have an alternative to being in a buggy.
Trikes feel much more active for young kids and can encourage their development as well as confidence from when they're nine or 10 months.
Using a trike that has parental controls, such as a steering bar, can help your children to get used to triking but knowing they can chill out and enjoy being steered by their parents too.

Many trikes give you the chance to remove the push bars as kids get older and want to ride more independently, so you can watch your children progress to riding on their own.
How do I teach my 2-year-old to ride a tricycle?
If you want to teach your two-year-old child to ride a tricycle, such as because they've expressed interest in it, here are some ideas.
You can start by introducing your two year old to the tricycle. Let them stand next to it and hold onto the handlebars while standing next to it.
Then, gently encourage them to raise one leg over the tricycle so that they can sit on the seat. It's essential to give your toddler a tricycle that's the right size for them so that their feet can touch the ground when they stand over and sit on the tricycle. Make sure you hold the tricycle the first few times they do this to prevent any unwanted or jerking movements that can frighten them.
While they're sitting on the tricycle, make use of the steering to push them along. Start slowly and see how they respond.
If you can detach the pedals of the tricycle you have, you should do this and encourage your toddler to push the tricycle forward with their feet. This is a great way to introduce them to the movement of the tricycle. Teach them that they can put their feet down on the ground in order to stop the tricycle.
Don't flood them with accessories. Although your child will probably love having tassels on their handlebars or a fun bell attached to it, these can be distracting when you're trying to teach your child how to use a tricycle. So, put these aside for the time being until your toddler is a bit more experienced with using their tricycle. Once they have the basics down, such as when it comes to pedalling, they will be able to enjoy their trike accessories.
Use nonverbal cues. Sometimes toddlers learn more from visual, non-verbal cues than if you tell them words. So, waving your hands at them will get your attention when you want them to stop pedalling, as will clapping when they master a turn.
How do you teach a toddler to pedal?
If you want to teach your child how to pedal, you should use a chair that's almost the same height as the tricycle's seat.
Now, sit on the same chair across from your toddler and put your palms at the same height as where the tricycle's pedals would be so that your child can rest his or her feet on your hands.
Gently push your child's feet to mimic the movement of cycling to give them a feeling for how to cycle.
Another way to get your child used to the idea of pedalling is to show them how it's done on your bike, or take them to the park so they can see how other kids do it.
Once the above have been mastered, you can teach your child how to pedal by having them sit on their tricycle.
Let them keep their feet on the pedals as you gently move them forward. Once they are comfortable with that, try steering them up a gentle slope.
Conclusion
Getting your child interested in tricycles can be a great way to encourage their development and help them to have fun with a new hobby.
In this guide, we've looked at the top rated tricycle for toddlers, followed by other highly rated tricycles for kids, so you can ensure your kids have fun while learning valuable skills.
That is, after all, the best way to learn!
---